What Is a Guided Meditation?
If you're brand new to the world of meditation, it's easy to get a little overwhelmed by all the jargon, all the options, and all of the time you're supposed to spend in silence, free of distractions. A guided meditation is the perfect way to kick off your relationship with this scientifically proven stress-relieving activity.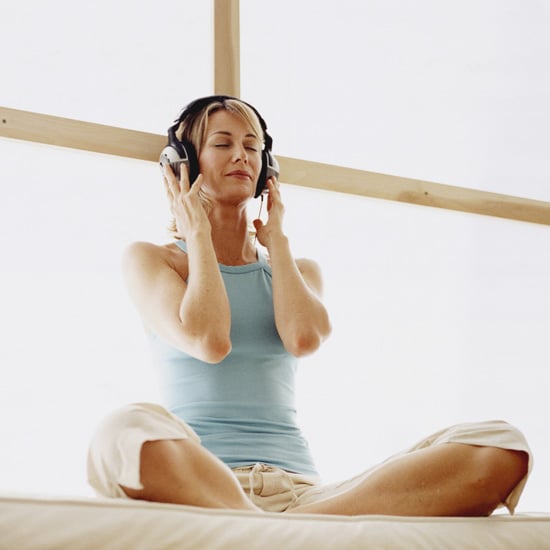 You may think that meditating means you've got to sit down on a pillow and stay in silence for hours on end. Luckily, this is not the case for a guided meditation. Soothing sounds and a gentle voice guide you through an allotted period of time, helping you draw attention to your breath and internal gaze, instead of all the chatter in your mind. From every guided meditation, you can expect a kind voice moving you through the process. This voice will tell you where to bring attention in your body, help you elongate a stressed-out breathing pattern, and allow you to relax deep into the moment.
But beyond these factors, guided meditations vary greatly. Some can last for as long as 40 minutes, while some set a morning intention in less than five. Many guided meditations use the tranquil music you'd expect to hear at a local day spa, but others bring on the '90s rock. The truth is, like anything else, you've got to try a few things out to see what inspires you. Guided meditation is available in person or through websites, phone apps, podcasts, and CDs.
Read on for some guided meditations to get you started after the break!
Personally, I've been loving author Gabrielle Bernstein's Spirit Junkie meditations. While each meditation points to specific chapters and themes from her book, they're an amazing tool for someone who isn't into loads of chanting but is interested in reaping the benefits of a pointed meditation practice. If you know about Deepak Chopra's work, you may love his straightforward Stress Free Meditations that focus on specific emotions, areas of the body, or sleep.
Have you ever tried out a guided meditation? Tell me about it below!