What's a Hip-Hop Class Like?
A Beginner's Guide to Hip-Hop Class: Gain Street Cred With These Tips
If you've thought about taking a hip-hop dance class and just never got around to it, now's the time. But maybe you're intimidated because you don't know what to expect or even what to wear to a class. Here are some things to know before you take the leap to becoming a regular at the studio.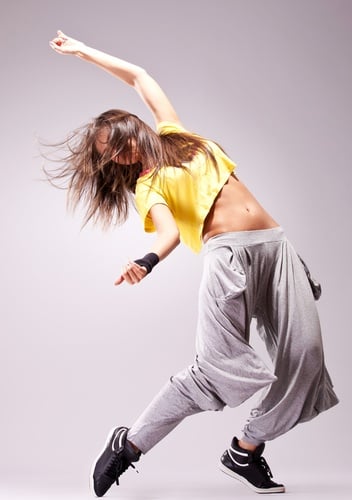 Dress the part: Think about dressing like a boy, but with your own feminine touch. You want clothes that are loose and baggy so that you can move with ease. Try simple sweatpants with a baggy t-shirt, or opt for harem pants with a tank top. This will feel fitted enough for a lady with enough swag for a dancer.
Test-drive your shoes: Since your feet are helping you travel, you'll want to make sure they move swiftly. Break your shoes in before your first slide to make sure they don't squeak or trip your feet up. Unlike other dance classes, you're fine wearing street shoes. The dirtier, or more worn in, the better.
See more tips after the break!
Hair matters: Think about your hair type and how it reacts to humidity. Your hair might look great once styled, but it won't stay like that when your scalp and neck start to sweat. If you're the type of person who has to straighten their hair, just bring a hair tie and plan on putting it up midclass so you aren't fussing with it. If you embrace the curls or have straight locks, you can let it all hang down.
Do your research: Not all hip-hop classes are created equal. If you prefer smooth hip-hop, you might not be so excited to take a hard-hitting Krump class. If you don't know what dance style you like, think about the hip-hop you listen to on the radio; the pace will usually speak volumes for your preference in movement.
Buy in bulk: Many studios offer discounts if you purchase a group of classes at once. This could lower the price from a $20 drop-in fee to $15 or $10 per class. If you aren't sure that you'll like it, see if you can decide after class. Most dance studios will happily let you because they want you to come back.
Less is more: Don't overdo the makeup and clothing. You're taking a class, not performing on stage. Think about how you prepare for the gym. Although you'll be dancing instead of running, you will still be sweating, a lot. The quick tempo and unknown breaks for water will keep your heart rate up all hour long so you don't want to wear anything that's going to distract or bother you.