What Is Kinesis?
Kinesis: Smooth Style Weight Training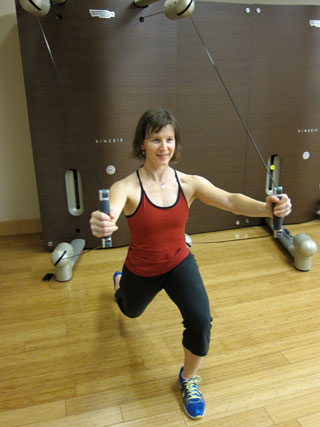 When it comes to strength training, I like it all — from detail oriented Pilates to rough and tumble boot camps, which is probably why I enjoyed the smooth and stylish Kinesis system at Sports Club LA. The machine seemed part Reformer and part weight machine, but with all the mechanism hidden giving the system a sleek appearance rather than an intimidating one. Behind the undulating rich wood cover is a closed chain pulley system, which is not only responsible for the fluid feel of the machines, but the mechanism increases the tension the farther you pull the ropes. A fun way to make the workout more challenging.
Comprised of four machines, the Kinesis system uses different points of contact and handles to challenge your body in all three planes. The ropes and handles all move in large ranges of motion making the exercise options endless. Where the ropes attach to the machines determines what muscles you work, but in a standard 20-minute workout you do the same basic series with your lower body on each machine: a half squat, full squat, lunge, and lunge to crane — super challenging for balance and the core. Each exercise is done for 60 seconds. While doing the series of lower body exercises, you do rows and lat pulls to work the back and presses to work the chest; you pull from the floor to work your biceps, and there's one strap that's perfect for deadlifts. My heart rate was certainly elevated during the workout, and I built up quite a sweat because the pace is quick and the workout is a full body circuit. Once you have the basics down, you can try more advanced variation working through multiple planes of motion with choreography that feels like Kung Fu.
Take a gander at a few more moves demonstrated by me and my trainer Jay.