What It's Like to Be a Personal Trainer
One Fit Job: Personal Trainer
During hard economic times, desk-bound fitness fanatics often start considering career switches to more active professions, like becoming a personal trainer. The job is considerably more vigorous than sitting in front of a computer day in and day out. To get the skinny on the daily dos of working as a trainer, I spoke with Equinox personal trainer Lauren Fairbanks, 26. She loves her job, colorful sneakers, and simple snacks.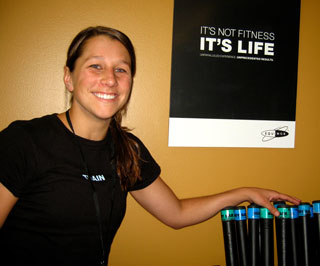 FitSugar: So how long have you been working as a personal trainer?
Lauren Fairbanks: A little over three years, and it took me about nine months to ramp up my business enough to support myself financially.
FS: What form of training does this job require?
LF: Becoming a personal trainer usually requires getting certified by passing an exam created by a nationally recognized organization such as: National Strength and Conditioning Association (NSCA), National Academy of Sports Medicine (NASM), American Council of Exercise (ACE), among others. I chose to go to a school for personal training called the American Academy of Personal Training (AAPT) in NYC, because I wanted to get the classroom education as well as the hands-on practical experience (rather than just test prep) — so this was a great choice for me. I am certified through AAPT, as well as Equinox's in-house Equinox Fitness Training Institute (EFTI), and carry a bachelor's in Science with a major in Dietetics from Central Michigan University. I also have a certification in TRX, kettlebells, ViPr, and pre/postnatal fitness.
FS: Does your college degree help you now?
LF: Yes, this major absolutely helps me, as nutritional guidance is a huge part of physical fitness.
FS: Were you sporty in college?:
LF: Yes, I ran division I track and cross country all four years of college. I was a middle-distance runner (half mile and mile). I also love playing volleyball and basketball.
Lauren has more to say about her career, so keep on reading.
FS: What lead you to this career path?
LF: I have always been involved in athletics, and health and fitness has always been a big part of my life. I wanted to combine my love for both of these things as well as my passion for helping people reach their goals. After completing my degree in dietetics, I quickly realized that I didn't want to work in a clinical setting. I kind of fell into training after college and have loved the job ever since.
FS: What is your favorite part of the job?
LF: There is rarely a dull moment in this line of work. I love people, and I have a different client, with different skills and struggles, as well as a different personality every hour of the day. It is never monotonous; it's rather exciting and challenging on a daily basis on many different levels. Keeps me on my toes!
FS: What's your least favorite part of the job?
LF: I'm realizing it never gets easier to get out of my bed in the early morning hours . . . still something I haven't gotten used to. I overuse that snooze button.
FS: How often do you workout? When do you fit it into your schedule? Do you work with a trainer?
LF: I workout five to six days a week usually. I run quite a bit, love to strength train, and do yoga a few times a week. I usually run or bike outside as much as I can fit in. I fit in my workouts whenever I have gaps in my day . . . usually the midafternoon. I make it a pretty big priority in my life. I don't work with a trainer, but I need one! Even trainers need trainers!
FS: What aspects of your job do you think would surprise people the most?
LF: I doubt most people realize how much patience it takes to do my job. You've gotta be switched "on" every hour of the day.
FS: On average, how many hours do you train clients a week?
LF: Usually between 30 to 40 sessions a week, but this doesn't include the time spent programming, scheduling, sending emails, attending meetings, and other busy work. I see most of my clients one to three times a week. I stay pretty busy.
FS: What do you eat to stay fueled throughout the day?
LF: I eat a lot . . . when I'm busy I snack a lot, too. I have a pretty balanced diet but certainly make time to enjoy the good things in life. I'm a big foodie, but on an average day I keep it pretty basic, snack on yogurt and fruit, Luna bars, veggies, eat a lot of salads, nuts, fruit, sandwiches . . . nothing terribly exciting.
FS: What do you consider your work uniform?
LF: Black Lululemon leggings, black "Train" shirt, name tag, and some obnoxiously colored sneakers to offset my black spandex suit. We all need a little color in our life.
FS: What advice would you give someone who was interested in switching professions and becoming a trainer?
LF: I would say . . . go for it! It's an amazing job that is ever changing and evolving. You will never, never, never stop learning . . . I can't get enough of that. It's incredibly rewarding to see the effect you can have on people, and that's probably my favorite part. I would say, it definitely takes a lot of work and dedication to be good at the job, but if you're passionate about what you're doing and willing to work hard at it, you will always be successful.