What It's Like to Be a Tennis Pro
One Fit Job: Teaching Tennis Pro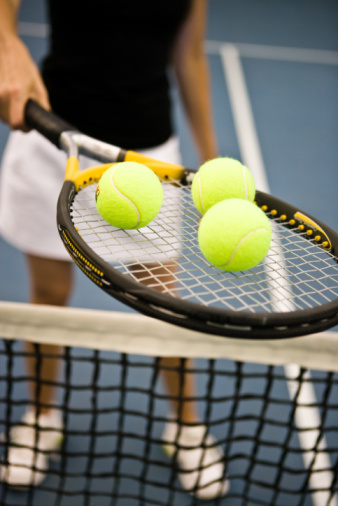 After getting to play Nike Field Reporter for a day, I started wondering what it would be like to have another type of fit job. Obviously, my job is fitness-centric, but I'm still sitting at a desk most of the day. So as the pros face off at Wimbledon, let's take a look at another kind of tennis pro: the teaching professional.
Both the pros you see on TV and the pros who teach lessons and clinics are certified by the United States Tennis Association, but obviously, the job descriptions differ. I spoke with Janet Wilson, a teaching tennis pro in Pensacola, FL, 45, about what it's like to play tennis for a living. Find out all about her fit job when you read more.


FitSugar: How long have you been playing tennis? Tell me a bit about your tennis biography.
Janet Wilson: I started playing tennis in south Miami when I was 3 years old, hitting against a backboard while my parents and older siblings were on the courts. My parents would take lessons and then teach us. I'm the baby of five, so I was at the tennis courts my whole life! I played junior tournaments from 8 until I was 16, where I was ranked in the top five junior players in the middle states and played in several national tournaments. Once I graduated from high school, I attended Pennsylvania State University on a four-year tennis scholarship.
FS: What made you want to go into this career?
JW: I began instructing juniors, alongside my parents, at the age of 12. I have taught off and on ever since. Needless to say, becoming a teaching professional seemed like a natural course. Although teaching seems very natural to me, I've been told that I have a gift for teaching because I can pick up specifics of a person's technique and verbalize instruction to where they can interpret it and make the changes necessary. Seeing the advancement of each player's ability is definitely the most rewarding part of the job.
FS: What's the most difficult part of your job?
JW: The most difficult part of my job, which might sound odd, is having to teach clients when the temperature drops below 50 degrees. I really don't like the cold. I'd much rather teach in 95 degree weather because I'm extremely acclimated to the heat.
FS: Do you still play tennis for fun? What's it like to have your job also be your hobby?
JW: I've gone in spurts playing competitive tennis. I find it very difficult to find time to practice between teaching and family life, and unless I practice, I'm unable to play at the level I know I'm capable of. I am playing in a USTA Mixed Doubles league this Summer, but that will be the first time in several years that I've competed. My clients have a hard time understanding why I don't play more and why I don't watch tennis on TV, but when tennis is your job, you need to leave your job on the courts to do other hobbies. So I hunt and fish instead!
FS: How do you stay in shape? What's your fitness routine off the court?
JW: Because I'm not playing, I do have to run to stay in shape because I like to eat! So I try to run 10 to 15 miles a week and set a goal to train for a half marathon or a marathon in the upcoming months. I've run one half marathon about 18 months ago and would like to try a full marathon.