What Makes You Tired at Thanksgiving?
What's Really Making You Tired at the Thanksgiving Dinner Table?
While you may have heard that tryptophan, an amino acid popularly found in turkey, will make you tired after eating your annual Thanksgiving meal, the truth is that it's found in plenty of common foods and is likely not the cause of your lethargic behavior.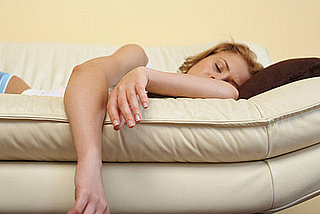 In fact, the amount of tryptophan found in turkey is about the same as other poultry, and nearly the same amount as pork. Tryptophan is also found in fish, eggs, even rice. So, before you crash on the couch and blame the tryptophan, here are a few suggestions of what's really making you sleepy after your meal.
Wine Not to overstate the obvious, but holidays generally call for celebration, and celebration often calls for wine. The alcohol alone would make you sleepy; pair it with a whole lot of food and you have a recipe for a nap.
Sheer volume of food I don't know about you, but my Thanksgiving meal requires at least one trip back to the buffet line . . . if not more. Consuming all of that food means your body is using its energy to digest, not keep you awake. If you must try everything, try eating smaller portions of each thing to help stay awake.
Carbohydrates Rolls, potatoes, and stuffing are Thanksgiving faves, but all of the carb-loaded comfort food can leave you feeling lethargic, too.
Tiredness If you helped prepare the meal, you probably woke up early and spent most of the day on your feet. Then, after sitting down to a large, comfortable meal, your body relaxes and feels tired. That much action in the kitchen is bound to tire even the most seasoned Thanksgiving cook.