What are Negative Splits?
Use the Power of Negative Splits
Who doesn't want to be a faster runner? Whether you're a beginner or someone who's finished a few marathons, runners of all levels can benefit from practicing negative splits. When you first hear the term, you might picture those contortionists who do floating splits between two chairs, but I assure you it's nothing as weird or seemingly painful as that.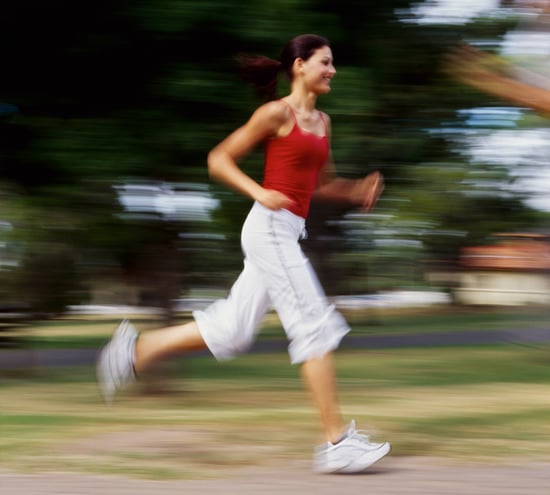 Negative splits simply mean running the second half of an interval or an entire run or race at a faster speed. Since you're running the first half at a slower pace, it seems you'd be put in the negative in terms of total time, but since you're reserving energy for a faster second half, you'll actually end up with an overall faster time. Here are some more reasons to incorporate negative splits into your workout.
Running at a slower pace in the beginning of your workout or race allows your muscles and joints to warm up thoroughly, which can help prevent injuries such as pulled muscles.
It gradually increases how hard your heart and lungs need to work, so it's less of a shock to your system.
Mood-boosting endorphins will naturally be flowing in the second half, so you'll have increased energy that allows you to run faster without feeling much effort.
Running faster in the end of a race puts you at an advantage psychologically. You'll feel more confident and have a sense of strength as you pass other runners by.
They offer quicker postrun recovery.
When consistently doing negative splits in training runs, you'll inevitably become a faster runner.
To inspire a negative run naturally, do one of your favorite out-and-back runs. Run to your destination at a slower than normal pace and then turn to run home, but go at a faster than normal pace.
Use a GPS or other device to chart your run, and once you hit the halfway point of your total mileage, start running faster. That means if you're running five miles, pick up the pace at the 2.5 mile mark.
Use negative splits when running a double loop. There's a 1.5-mile loop I run in my neighborhood, so I run the first time around at one pace, and then I increase my pace the second time around.
Incorporate negative splits into your interval training by running the second half of the faster interval at a quicker speed.