What to Pack When You Hike
The Gear That Every Hiker Needs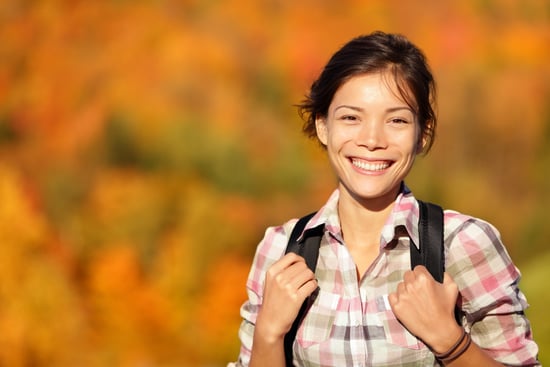 An amazing way to take in scenery, hiking is also a great way to burn calories. And whether it's two miles or 20, you'll want to make sure that your backpack is filled with all the essentials. From safeguarding your skin to helping protect against a serious emergency, here's everything you'll need to have in your pack before hitting the trail.
Water: Do not let yourself get dehydrated out on the trail — especially when the weather is unusually hot. Carry a big water bottle or, better yet, a women-specific hydration pack. Hydration packs allow for more water and make it easier to get a drink than having to fish for your bottle. Reservoir pouches fit right inside a backpack, and a tube from the pouch runs out toward your shoulder. To get a drink of water, bite down on the end of the tube and suck. An hour or two before your hike, drink an ounce of water for every 10 pounds of body weight, and for more extreme hiking conditions, hydrate on the trail with some sort of electrolyte replacement.
Sunscreen: When spending a full day hiking, one application of sunscreen won't be enough. Be sure to follow the specific guidelines on the sunscreen bottle to know how often to reapply. Keep in mind that if it's hot out, then you'll want to apply sunscreen more frequently since you'll likely be sweating it off, but it also helps to choose a water-resistant or sports-specific brand. Make sure to apply sunscreen 30 minutes before heading outdoors; that way, it will be thoroughly absorbed by your skin.
See the rest of the items — including one that may save your life — after the break!
Insect repellent: Bugs are enough to ruin any hike. Insect repellents containing DEET and picaridin are the most effective and long-lasting, but if you're worried about using chemicals on your skin, then choose an all-natural insect repellent instead. (When used as directed for short-term use, DEET and picaridin are not harmful, according to the EPA.)
Food : Even on a short hike, it's a good idea to bring food. You never know if you'll stay out longer than expected or if your energy levels will need a boost. Pack snacks that are a good mix of protein and carbs: trail mix, fruit with nut butter, and energy bars are all good bets. For longer hikes, pack something more substantial like a sandwich or pasta salad.
Emergency essentials: When hiking, always expect the unexpected. Sometimes a short hike may take longer than expected, or worse, a member of your party may injure themselves. Cover all the basics by carrying an extra layer of clothing, a headlamp, a map, and a compass. Also, don't forget your ID, first-aid essentials, cell phone, and a whistle (in case of an emergency, it's an easy way to attract attention). Here are some Summer first aid kit emergency essentials.