What to Wear on a Long Run
Stay Comfortable and Safe With This Long-Run Checklist
You may be able to power through discomfort and hunger on short runs, but if you've got a longer run on your schedule, then make sure you prepare and stay safe with this long-run checklist.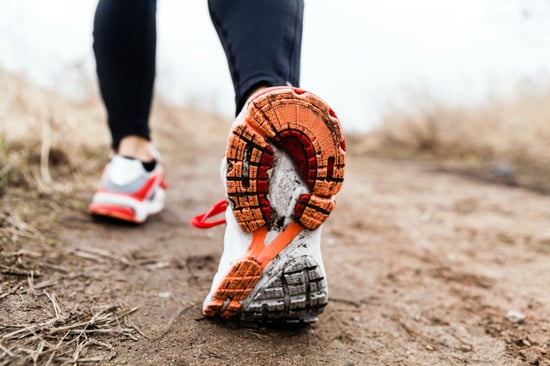 Seamless running gear: If you're running for an extended period of time, then it's important that your outfit holds up throughout. The layer closest to your skin should use seamless high-performance gear that wicks sweat to prevent chafing and scratching from seams, tags, and uncomfortable material. Check your pockets to make sure there aren't any holes where keys or ID cards can poke through, and make sure zippers aren't going to bother you while you run.
The right shoes and socks: Your feet expand as you run, so don't wear shoes that are already a little snug when you first put them on. Likewise, shoes that are too big can contribute to blisters and an unsafe gait, so make sure you choose properly fitting shoes. Your socks should be made of a sweat-wicking material (like merino wool or synthetic blends), not cotton, to help prevent blisters.
Stay-put earphones and music: Long runs without a workout playlist can be a chore, so test out your headphones before you go to make sure they won't keep falling out while you run. I like Yurbuds for their ability to stay put comfortably for a long time; see reviews of more running earphones here. Also, make sure you've got an armband (or a clippable iPod Nano or Shuffle) to keep your running soundtrack hands-free.
Sustenance: If you're going for an extended run, then you have to keep your body energized. Hydration and carbs are important, so use a running belt stocked with water bottles and gels, or plan a route where you know you can stop to get water and a snack conveniently. If you are running in a less-trafficked area, then you can stash your water to pick up on your way back.
Layers: In cooler weather, layering correctly is important; you don't want to be too cold when you start, but you want to have enough options to strip off a layer if you start to heat up. Go for outer layers that are easy to take off and wear around your waist, like a zippered jacket. And don't forget a hat that covers your ears and waterproof gloves that you can stash in your pocket if you're running somewhere cold in the Winter.
What are your must haves for a long outdoor run? Tell us in the comments!