What Is Xanthan Gum?
The Skinny on Xanthan Gum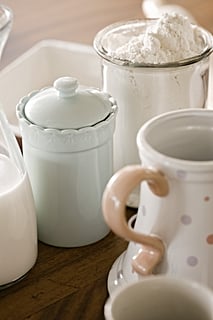 If you read labels to steer clear from any sketchy sounding ingredients, you've probably come across xanthan gum in random items from ice cream to salad dressings, from toothpaste to gluten-free desserts. Xanthan gum sounds artificial, but what is it really, and why is it in so many products?
Without getting too scientific, xanthan gum is a carbohydrate created through fermentation. The process begins with a sugar from a soy, wheat, dairy, or corn source. A strain of bacteria, called Xanthomonas campetris, is added to the sugar to create a gum, or a slimy substance, which works as a colorless and tasteless thickener, stabilizer, and emulsifier.
With the ever popularized gluten-free dessert craze, many famous bakeries, like Babycakes NYC, depend on xanthan gum to give wheat-free cakes and cookies that gummy, "gluten-y" quality. Erin McKenna, founder of Babycakes, diligently chooses all of her ingredients because her bakery is devoted to offering sweets free of wheat, gluten, dairy, casein, and eggs. She recommends Bob's Red Mill Xanthan Gum, which is certified gluten- and dairy-free and made from a combination of non-GMO corn and soy sugars. If you're attempting some gluten-free baking of your own, it is recommended that when converting a flour-based recipe to gluten-free, add one to two teaspoons of xanthan gum for cakes and up to one teaspoon of xanthan gum for cookies.
If you have any sensitivities or allergies to soy, wheat, dairy, or corn, be sure to play detective and figure out the original source of the xanthan gum before ingesting it. Some gluten-free folks claim that xanthan gum causes intestinal distress. And according to Web MD, xanthan gum can work as a laxative; it swells in the intestinal tract and activates digestion. If you experience uncomfortable bloating after eating products that contain xanthan gum, try substituting guar gum, which is made from powdered guar beans and produces a comparable gummy texture — hopefully without any side effects.
What's your favorite gluten-free product or recipe?