What Is Xtend Barre?
Xtend Barre Founder Andrea Rogers: How Her Plan Sets the Bar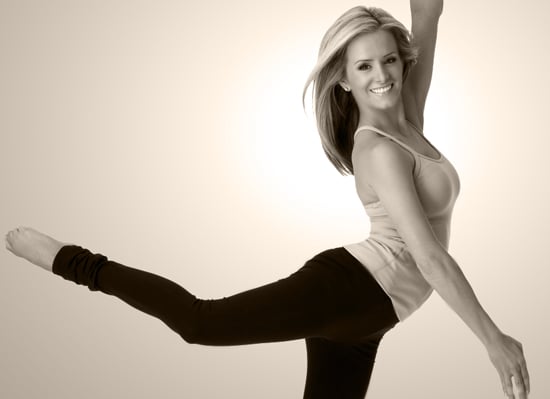 The Xtend Barre Workout has been getting lots of press these days — and for good reason! One of the newest darlings of the ballet barre circuit, Xtend Barre has fresh choreography with every class that both experienced dancers and ladies with two left feet can perform with grace. I recently chatted with the workout's founder, Andrea Rogers, on how Xtend Barre sets itself apart.
FitSugar: What motivated you to create the Xtend Barre workout?
I was a professional dancer for years, and then I transitioned into the Pilates industry, which I absolutely loved. However, I was really missing the choreography and the creative elements of putting together a sequence of exercises or a routine. I started to sprinkle in some dance elements with my Pilates clients, and I started to see extremely fast results. Not only were my clients gaining more energy and endurance because of the cardiovascular elements, but they were also able to apply at the Pilates principles a little better because they were in a vertical position.
FS: What sets Xtend apart from other barre classes out there?
We don't call it a dance workout just because we're at a ballet barre! We actually use dance in the choreography and it doesn't mean you have to be a dancer to perform. You don't have to have any experience in dance to benefit from the elements in Xtend Barre, but no matter how conditioned you are, everyone gets challenged in the class. It's nice to see people who are in the best shape of their lives shiver and quiver and shake. It makes you feel like I can do this! Each class you get better and stronger.
Keep reading for Andrea's reasons she loves the ballet barre.
FS: What advice would you have for a former gym rat who's making their way to the barre for the first time?
The ballet barre is one of the best ways to find awareness. The ballet barre is there not only as a balance tool, but it's there as a measuring tool. By using the barre, you can constantly gauge yourself and your placement. Within a short amount of time, you see new clients walk to barre and look like true dancers.
If you're interested in learning more about the workout, then find an Xtend Barre location near you or check Andrea's Xtend Barre® Lean & Chiseled DVD.