What's Your Preference? Steam Rooms or Saunas
The Heat Is On! Saunas or Steam Rooms
One of the top reasons I belong to my gym is for the steam room. Whenever I feel a cold coming on, I head over to the facility and strip down to a towel for a 15-minute breather. While I prefer the misty heated room, others prefer the drier sauna, though they both tend to provide the same benefits. Still, there are differences between the two types of steam baths.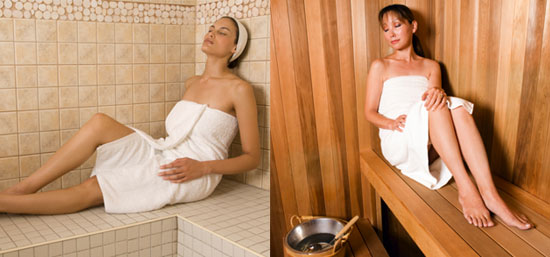 For starters, saunas are much hotter than their wetter counterparts. A room with wooden planks and a small oven, saunas are very hot — temperatures ranging between 140-212 degrees F with a low level of humidity (ranging from five to 30 percent). The only steam you will see in a sauna is the result of pouring water over the oven or the steam rising from your own skin. Steam rooms, on the other hand, are still very hot at 110-115 degrees F with a humidity level of 100 percent. The steam in these rooms is pumped in through a vent and often causes a fog so thick you can hardly see your hand in front of you.
Curious to know more about the benefits and warnings?
When it comes to the benefits, steam rooms and saunas have a list of perks. People with respiratory problems like yours truly may enjoy the moisture of the steam bath as it helps clear the sinuses and lungs. Those who enjoy the heat but don't care for the mist can still take advantage of the sauna to help their blood circulation, clean and rejuvenate their skin, and ease their muscles.
While both types of rooms seem relatively harmless, users should carry some caution before heading into either one. Pregnant women, children, and people with medical conditions are warned not to go in them as the high heat could cause overheating or other serious reactions. To keep from experiencing dehydration, it is encouraged that people consume liquids before going in and after coming out. And, as is the case with my public spaces with bare body parts, cover yourself to keep from exposing your body to bacteria. Lay a towel down before sitting or resting your feet on any surface.
Which kind of hot bath do you prefer, if any?