What Are Your Thoughts On Hot Tubs?
Weigh In: Are You a Hot Tubbin' Lady?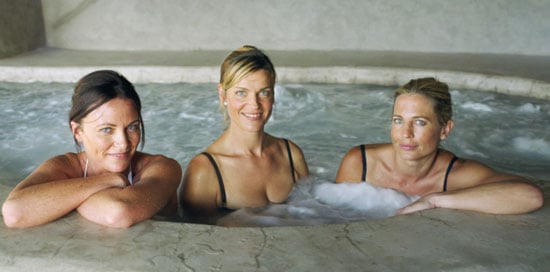 Ignorance is bliss, or at least it is when it comes to hot tubs. I used to get giddy when I saw "hot tub" listed under amenities of spas or hotels, but now it makes me cringe. After hearing fungal horror stories and going through my own traumatic experience, I wouldn't dare to dip my pinky toe in a warm bubbly pool, save my own.
Some folks like to get their groove on in the steamy waters but that's just asking for trouble, or at least bacteria. While it may be a relaxing and thoroughly enjoyable place to sip a toddy aprés ski, I'm not sure it's worth the aftermath of folliculitis, also known as the "hot tub rash." But hey, that's just me. If you fancy the swirling tubs for their therapeutic powers, just make sure it's a clean and trusted spot before you take the plunge.
So tell me, would I find you in the hot tub or sitting on the sidelines?