When to Freeze Meat
Smarter Eats: Meat Safety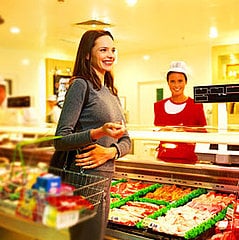 Veggies and grains take up most of the real estate on my meal plates, but when it comes to protein, I enjoy the lean varieties of fish and chicken. But I am no stranger to beef and pork, either. Though I make my best effort to shop with a grocery list, I can end up at the supermarket without a game plan and eyes bigger than my stomach. When faced with an overabundance of produce, I tend to make tons of salad and sides, but when it comes to having too much raw meat, I know I can freeze it. To eliminate the risk of food-borne illness from meat that has made a turn for the worse, I follow these rules of thumb:
Fish and poultry should be cooked or frozen with two days of purchasing. Same goes for ground meat and uncooked sausages.
Cook beef, lamb, and pork within three to five days of purchase or freeze.
When freezing, keep meat in butcher paper since the sticker will have the information about the cut of meat and the date purchased, but do use the added protection of heavy-duty plastic wrap or a freezer-grade plastic bag.
If you're barbecuing this holiday weekend, brush up on your food safety tips for your kitchen prep, grill, and buffet.