Where to Set Up in Fitness Class
Location, Location: Where to Set Up in a Fitness Class
Do you arrive at your fitness class and head straight to the same spot without even thinking? Having a special spot can make you feel more comfortable in class, but if you give it a chance, placing your mat in a different location might help you get more out of the class. Check out how each area of the room can bring something new to your workout.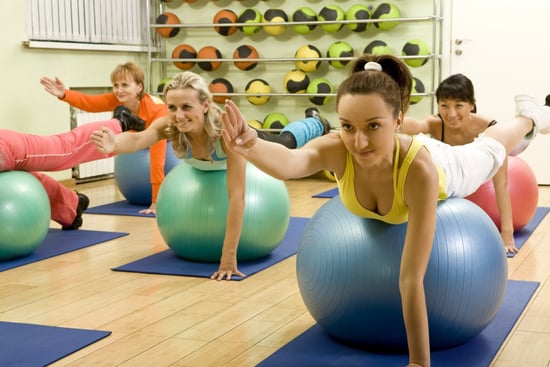 Front and center: If others easily distract you, there are usually less people in the front row. This is also a good place to be if you're a beginner since you'll be closest to the teacher. It will allow you to hear instructions better, ask quick questions, and have an unobstructed view of the teacher doing each move.
All the way in the back: If you're shy or self-conscious, setting up in the back of the room is the spot for you. You have a view of everyone else in the class, which helps in following along, but without the worry of all eyes being on you. If you're feeling tired or depressed, being in the back is a great place to feed off the uplifting energy of the group. And, if you have to make a quick getaway, being in the back will cause the least disturbance when you have to leave early.
By a wall: If you need a little assistance with balancing, a wall can offer help without having to rely on the teacher. It's also a good choice if you're easily distracted — less people on that side to disturb you. Being off to the side of the room can also prevent you from distracting others if you like to stray a little from the teacher's instructions.
By a mirror: If you're unsure about your form, watching your reflection in a mirror helps tremendously. Plus it can be inspirational to see how strong and fit you look!
By a speaker or window: If you're especially stressed, feeling down, or need a little extra inspiration, set up near the speakers or by an open window to help you zone out and just be in the moment.