Which Is Better: Electric or Standard Toothbrushes?
Which Is Better: Electric or Manual Toothbrushes?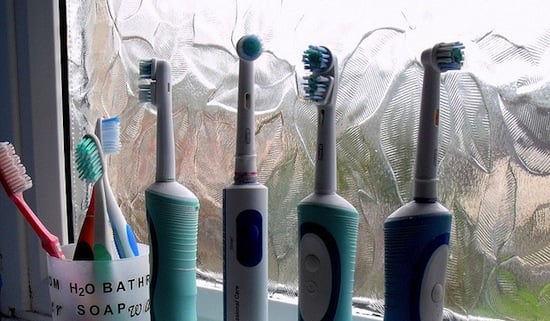 Watching my friend effortlessly clean her 1-and-a-half-year-old's teeth with an electric toothbrush was all the evidence I needed to get back into using my power tool of a toothbrush. Electric toothbrushes are fun — they feel good and they easily glide through your mouth, making brushing a breeze (don't even get me started on the flossing).
I tend to go back and forth between my GUM toothbrush (soft bristles in case you were wondering) and my electric toothbrush. Whereas 69 percent of you said that you use an electric toothbrush, so I can see which type of brush you favor. But when it comes down to it, which toothbrush gives you the biggest bang for you buck? Meaning, which toothbrush — old school manual or electric — gets the cleaning job done better?
To see what the verdict is, continue reading.
According to the American Dental Association (ADA), manual toothbrushes can be just as effective as powered ones. They say that the secret to both types of toothbrushes' success is not the brush itself, but how it is used. If you are a good brusher (at least two minutes, people!) and an avid flosser, then you should be fine with your standard brush. Although electric toothbrushes come in handy for those who can't physically move their hands around to get at hard-to-reach areas — i.e., those with arthritis or impaired motor function.
So there you have it. If it's not in your budget to go out and spend hundreds of dollars on the ultra 4000 swirl brush (totally made up), then don't. You'll be just fine with your basic brush.
Source: Flickr User K J Payne