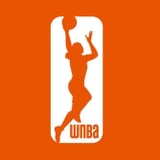 Reaching new heights takes confidence as well as skill, so we've partnered with the
WNBA
to show you what self-belief can achieve.
At 6'5", Stefanie Dolson stands out. But the Chicago Sky center didn't always feel good about it. "I was shy, a little chubby, a little awkward," she admits. "I didn't really know where I fit."
Now 26, Stef has grown to love who she is — and it's reflected in her outgoing personality. As a national champ for UConn, Stef enjoyed a friendly rivalry with President Barack Obama and even gave him bunny ears during a trip to the White House.
She's also been known to dye her hair bright purple and trade her basketball shorts for cool outfits off the court. Unafraid to pursue her eclectic interests, the two-time WNBA All Star recently interned at Chicago-based fashion company Model Atelier during the off-season. One day, Stef imagines starting her own clothing line, and this Summer she hopes to give modeling a shot. "People used to say girls were too big or too fat to model," she told me. "But there's a new era of embracing your differences. I want to give it a try." These days, Stef fits in just about anywhere thanks to a healthy dose of confidence.
As a college athlete, Stef's distinct self-assuredness made an impression. "Stefanie is the first post player who came to us where her confidence as a tall female off the court was much greater than the confidence she had when she played," Chris Dailey, UConn's associate head coach, told the New York Times. "Her confidence was sky-high off the court." But for Stef, this self-acceptance was hard fought. "Things get to you when you're young," she admits. "I remember I was at a volleyball tournament and kids from the other school starting chanting freak and I ran off the court crying."
The confidence started to click when Stef got to college. "I started playing well and felt like my height was serving a purpose with basketball. I started getting more fit, too," she says. "When I started getting confident it just grew. I realized being tall is beautiful."

It was basketball that helped Stef become fearless. And she wants to pay it forward. "To have this platform, I've been able to inspire other young girls," she says. Stef does her best to be an open book: "What I put on social media or what I tell fans is exactly the same as when someone meets me in person."
Whether that means showing off her personal style or speaking freely about her sexuality, Stef knows what she stands for. "Not everyone in the WNBA needs to be out, but I feel called to lead an authentic life in the open. I know who I am and I don't care if people judge me," Stef told ESPN Magazine, for a piece about her love life and relationship with another woman. By being open about her attraction to both men and women, she hopes girls will know it's OK to be themselves and fight for acceptance, regardless of their size, appearance, or how they identify. And it's working. After the article came out, Stef says a lot of young women contacted her through social media. "They said I inspired them to tell their parents," she recalls. "Or, that they felt like they understood themselves more. That was cool for me — to see that what I was opening up about reached some girls."
Stef lives her life by this motto: "If they're going to stare, I might as well give them something to look at." And when young girls look at Stef, they see a role model. They might relate to her love for her dog, a toy poodle named Theodore, or the fun she has with friends. And they'll also see someone who is comfortable in her own skin and unafraid to work for equality for LGBTQ women.
Thanks to sports, Stef eventually found her voice. And today, she wants to help others speak up for themselves, too. "Although I like to have a good time and I am a little young, I also am a big nurturer," she says. That can mean befriending rookies in the league or connecting with fans. "I always take care of people." No wonder her nickname is @BigMamaStef.