Whole Foods Give Bigger Employee Discounts to Healthiest Employees
The Bigger the Person, the Smaller the Discount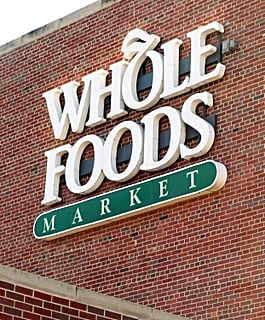 In a controversial new program, Whole Foods will be rewarding its healthiest workers with larger employee discounts. According to a Whole Foods memo: "The goals of this voluntary program are to encourage and reward Team Members for making healthy, positive lifestyle changes and to reduce the costs of our health plan." I guess the overpriced fish counter, 365 Everyday Value root beer, and chocolate fountain aren't enough to cut costs.
Currently, Whole Foods employees are given a 20 percent discount to use throughout the store. Under the new plan, participating employees will undergo a free screening to measure blood pressure, cholesterol, BMI, and nicotine use. Depending on their test scores employees will be assigned to one of four categories with corresponding discount rates: bronze (22 percent), silver (25 percent), gold (27 percent), and platinum (30 percent).
Even though bronze level employees still receive a larger discount than those opting out of the new plan, the incentive program still reeks. In order to qualify for the bronze level an employee must be tobacco free, have a blood pressure of 140/90, total cholesterol count of 195 or less, and a BMI of 30 or less. If you don't meet these minimum qualifications, you are stuck with the original 20 percent discount. Measuring someone's health by their BMI is highly questionable, as is just judging someone wholly based on numbers alone.
If Whole Foods really wants to send a message of health to its workers, why not get rid of the bakery, aisles of prepackaged, prepared, and processed foods, and the huge soda selection. No matter how you fry it, a package of "all-natural" doughnuts is still a box full of bad-for-you, oil-soaked bread. To me, this just seems like another move by Whole Foods to give the appearance of being a model of health, when it's anything but. John Mackey, the CEO of Whole Foods, even went so far as admitting that his store sells a "bunch of junk." From his proposed plan to fix health care, to posting on Whole Foods message boards under a fake name, Mackey is no stranger to controversy. It remains to be seen what fallout will come from his latest move.