Whole Wheat Biscotti Recipe
Cookie Exchange: Whole-Wheat Biscotti With Nuts and Dried Fruit
A cup of coffee in the evening (decaf for me) isn't the same without a biscotti for dipping. So many parties this time of year revolve around exchanging treats, but the treats you bring don't need to be insulin rockets. I like baking biscottibrand> to take these to functions or to give as gifts, and you would never know that the calorie count is under 60 per cookie. Last night I whipped up a batch using almonds and dried cherries, but just about any nut or dried fruit will do.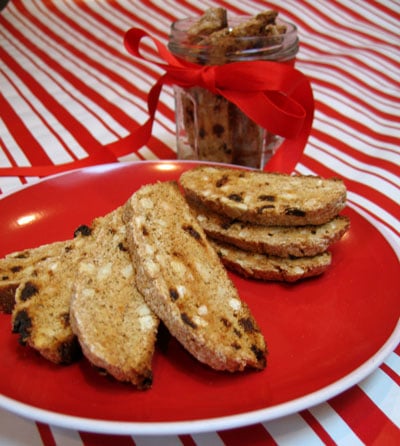 Check out the recipe and nutritional stats.
Whole-Wheat Biscotti With Nuts and Dried Fruit
Inspired by Everyday Food
Ingredients
3/4 cup whole-wheat flour
1/2 cup all-purpose flour
1 teaspoon baking powder
1/3 cup sugar
1/4 teaspoon salt
1/2 cup chopped nuts (walnuts, blanched almonds, pistachios, hazelnuts)
1/4 dried fruit* (raisins, currants, cherries, cranberries, apricots, etc.)
2 large eggs
1 teaspoon pure vanilla extract
*If using dried fruit other than raisins or currants, chop the fruit into nuggets the size of a small raisin.
Directions
Preheat oven to 350 degrees. Brush a baking sheet with oil; set aside. In a medium bowl, whisk together flours, sugar, baking powder, and salt; stir in nuts and dried fruit. Set aside.
In a small bowl, whisk together eggs and vanilla. Add to flour mixture; stir just until combined.
On a lightly floured surface, with floured hands, pat dough into a loaf about 1 inch thick, 2 1/2 inches wide (and about 7 inches long); transfer to baking sheet. Bake until risen and firm, 20 to 25 minutes; cool completely on sheet. Reduce oven temperature to 300 degrees.
Place loaf on a cutting board, and using a serrated knife, cut diagonally into 1/4 inch-thick slices; place slices in a single layer on sheet. Bake, turning once, until dried and slightly golden, 25 to 30 minutes; cool completely. Store in an airtight container at room temperature up to 1 month.
Makes 24 individual slices.
Information
Category

Desserts

Cuisine

Italian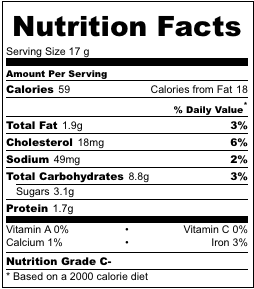 This nutritional analysis is based on using raisins and walnuts, a classic combination.