Why Barefoot Running Is So Popular
A Look Back at the Barefoot Running Trend
Are we better runners when the shoes come off? That's the question more runners are asking, thanks to the growing popularity of barefoot running, one of this year's biggest running trends.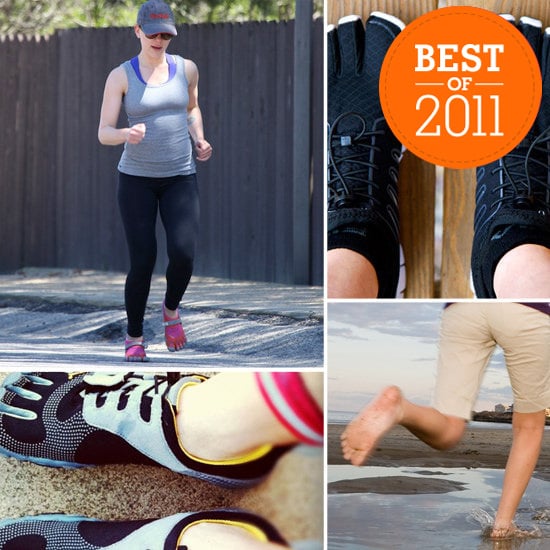 It's not a new trend, however. Serious runners have been braving the asphalt sans shoes professionally for decades (some have even competed in the Olympics without them!), but the movement started gaining even more traction with the 2009 publication of the book Born to Run, in which author Christopher McDougall explores how members of a Mexican Indian tribe have learned to run hundreds of miles continuously, injury-free, wearing only thin sandals on their feet. The book's promotion of barefoot running has led to a marked increase in runners who decided to ditch their heavier running shoes for minimalist pairs, or nothing at all!
It may not be new, but 2011 was definitely the year of the minimalist/barefoot running trend. Here at FitSugar we got a jumpstart by trying it out for ourselves late last year. Turns out, barefoot running is comfortable (especially on a treadmill over asphalt) and correcting; see for yourself how much your gait can change with this video comparing minimalist running with normal running shoes.
Celebs love barefoot running too! Read on for more about the trend after the break.
Celebrity running fans took notice of the trend this year, too. Earlier this year, Scarlett Johansson shocked everyone not only for dating Sean Penn but also for running around town with him in her Vibram FiveFingers; see her in action plus more celebrity fans of minimalist running here.
If you're looking to make the switch to minimalist shoes or running barefoot, don't start off too fast. The American Council on Exercise recently found that you should start out barefoot running slowly and at 25 percent of your normal running routine — going too fast or too long without building up the right muscles can cause injuries.
If you're not into investing in a pair of ScarJo-approved Vibram FiveFingers quite yet, check out our guide of some of the year's best lightweight minimalist shoes to help the transition, our review of the PureCadence running shoe from new PureProject line of minimalist shoes from Brooks, or our review of barefoot-running hybrid from Fila, the Skele-Toes Voltage.
What do you think of the barefoot running trend?
Sources: Flynet, Thinkstock, and Flickr User billsophoto