Why Cycling Shoes Are a Good Investment
If You Spin, Try Clipping In: Cycling Shoes Rock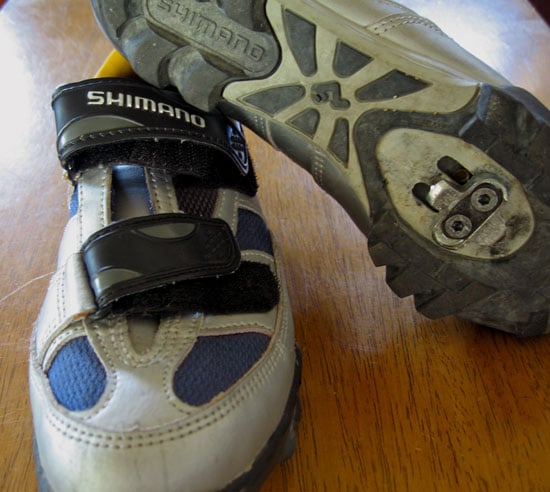 Indoor cycling classes make for lovely gams, this is true. But with cycling shoes on your feet, the ones that clip into the pedals, you will be toning your muscles much more effectively. Rather than overworking your quads by mashing the pedals downward to make the crank move, when you're "clipped in," you can make a smooth circular stroke that activates your hamstring, too. Pulling up with your heel at the back part of your pedal stroke utilizes the power of your hamstring — I for one am always trying to figure out new ways to work my backside. When you work the entire leg, you bike stronger and more efficiently, too, so you tire later and can really kick out the jams throughout your sweat session.
Another feature of cycling shoes is the stiff sole, which decreases the chances of your feet bugging you in class by going numb or developing hot spots. The stiff shoe also ensures that the power you put in to pedal moves the pedal rather than flexing the shoe. Cycling geeks like to wax poetic about the "power transfer," but when you're in standing sprint, rocking out to the latest Rihanna remix, you want your pedaling to move the crank, not bend your shoe.
If you're looking into purchasing a pair of kicks dedicated to your spinning obsession, look for mountain biking shoes with SPD cleats for two reasons: most spin bikes are equipped with pedals to fit this cleat style, and the shoes are much easier to walk around in than road bike shoes that tend to have very big, slippery plastic cleats. The Women's Spirita Touring Shoe ($90) by Specialized has a great stiff, nonslip sole for easy walking to and from the cycling studio. Cycling shoes may seem like a big investment, but in my experience each pair lasts for many seasons, unlike running shoes, which I find need to be replaced every 300 to 400 miles.