Why Didn't Aly Raisman Win Bronze?
Why Didn't Aly Raisman Win a Bronze?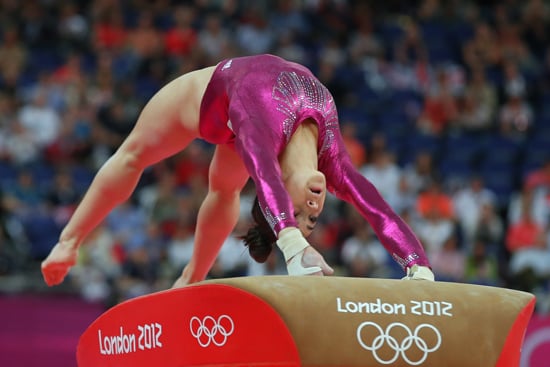 You may have been surprised to see Aly Raisman come in fourth place after her score of 59.566 matched Russian Aliya Mustafina, who was awarded the bronze medal. If you're perplexed at how this happened, you're not alone, as many people thought the two would share the podium. In alignment with the International Federation of Gymnastics:
"Should there be ties in the team finals in London, the lowest apparatus score will be dropped and the remaining scores added. If that doesn't break the tie, additional apparatus scores will be dropped, one at a time, until there is a winner. If no winner emerges, the tie stands.

There is a similar formula for the all-around final. But if no winner has emerged following the dropping of apparatus scores, the execution score total for each gymnast serve as the tie-breaker, followed by his or her total start value. If that doesn't establish a winner, the tie will stand."
While the odds of this happening are very rare, under this rule, Mustafina dropped her lowest score of 13.633 (balance beam), while Aly's lowest score of 14.200 (balance beam) was also dropped. Mustafina was able to win because she scored higher on the remaining three events. I'm not sure this is giving Aly any solace with the current situation. Between her lack of bronze in the individual all-around and Jordyn's elimination to the finals despite her fourth-place standing, it seems like all of these rules have been interfering with Team USA's ability to perform. What do you think?