Why Is Good Posture Important?
On the Streets or Inside the Gym: Why Your Posture Is Always Important
Good posture can do more than make you look 10 pounds thinner. It can prevent spine abnormalities, joint deterioration, and many everyday back and muscle aches. While you might know how to sit up straight at your desk, having proper posture should go further than your workday. Whether you're out on the streets or sweating it out in the gym, former professional dancer and celebrity trainer Anna Kaiser explains how to stop these potential issues in their tracks!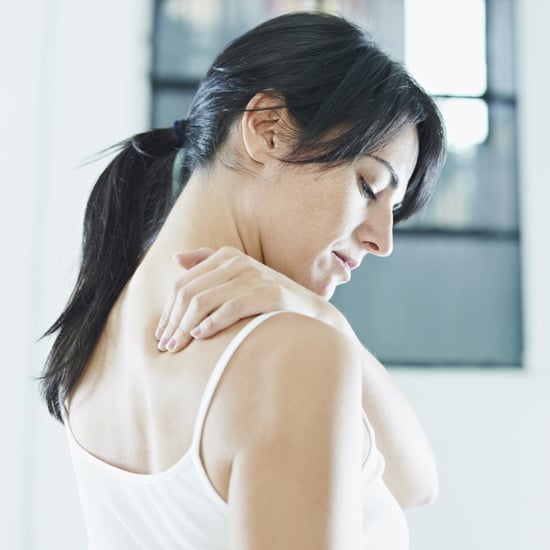 On the Street . . .
If you carry a big, heavy bag to work equipped with your laptop, wallet, gym gear, and more, then you could tacking on an unnecessary 15 pounds to one side of your body with every step. It's close to impossible to have proper posture when there's that much one-sided weight bringing you down. According to Anna, "You're probably overcompensating with your lower back and creating instability, and that's going to make you susceptible to injury." If carrying your laptop to and from work everyday isn't a necessity, then just don't do it. If you must, then pick up a sturdy backpack to sling over both shoulders; this way your whole back can share the weight.
Inside the Gym . . .
Whether you're lifting weights in the gym or doing plyometric exercises, when you're out of alignment, you're risking injury. Anna is a firm believer that "no one should be lifting heavy weight or any weight until they've mastered stability exercises using their own body weight." The same goes for cardio workouts. "If you're jumping around the room and not holding yourself well, you're putting a lot of weight on your joints," Anna says. "You can end up twisting an ankle; you can end up risking injury."
If the risk of injury isn't enough to help you get serious about posture and alignment, then note that proper posture makes your workouts more efficient and effective! Better results come from fewer reps when your alignment is where it needs to be. "You can do 10 lunges — if they're in proper form — instead of 25," Anna explains. "No one wants to do 25!"