Why I Can't Get Rid of My Marathon Shoes
Marathon Nostalgia: Why I Can't Get Rid of My Shoes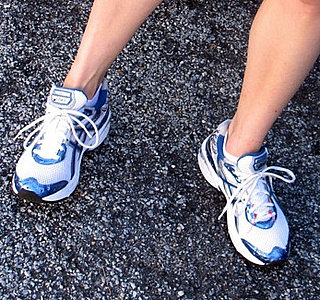 I've already confessed my brand loyalty to Asics running shoes and admitted I'm currently harboring four pairs in my closet. One pair is super-old and worn out, I use them for walking in the rain and yardwork; one pair is a decent pair of running shoes that I'll wear on short runs; and another the awesome new Gel Kayano 17s I love. But the fourth pair, the pair waaay in the back, are the shoes I wore during the 2008 NYC Marathon — one of the best days of my life.
I'm a nostalgic person to begin with, so couple that with my extremely positive memories from my first-ever marathon, and I can't bring myself to get rid of the shoes I used to run the race. I'll wear them around the house or here and there just because they're great shoes, but for the most part, I have plans to keep them in my closet indefinitely. In fact, if there is a way to preserve a pair of running shoes forever, I probably would do it.
I'm not sure if this sounds adorable or ridiculous, but the shoes, after traveling 26.2 notable miles with me, carry incredible meaning. Does anyone feel the same way?