Why Keeping a Food Journal Helps You Lose Weight
Nutritionist Alexa Fishback on the Power of Food Journaling
This week, the Get Fit For 2010 challenge is to write a blog post about a day of your food journal. But there's no need to go it alone; nutritionist Alexa Fishback, author of The Daily Fix is here to help us all.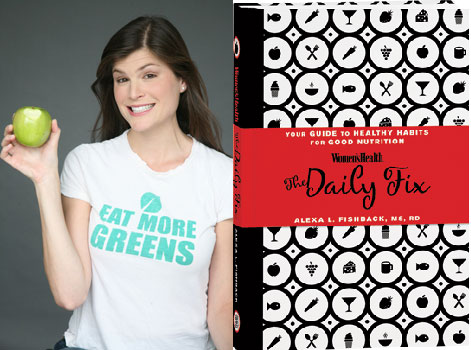 Here are some encouraging words from Alexa:
Congratulations on joining Get Fit For 2010! This week we are focusing on the food journal, a very basic but powerful tool to create awareness about the foods you eat every day and thus those that impact your weight and health. Although it can be tedious, studies have shown that the longer people keep a food journal, the more weight they lose.
The important lesson is to be able to connect the sandwich you eat every day for lunch to its calorie content, and to monitor your overall fruit and veggie intake. You may be shocked to see how caloric some of your favorite foods are or pleasantly surprised to discover those foods that really fill you up and are low in calories. You may be stunned by the lack of fruit in your diet and all the calories in the bread and olive oil you nibbled on before dinner, or proud of yourself for fulfilling your daily veggie requirement on a regular basis. 
Maintaining a food journal for one week is usually quite effective, but feel free to continue logging your intake until (a) you feel you fully understand your daily eating habits and (b) you get to the point where you have memorized or can estimate the calories of the foods you typically eat. At the end of each week, review your food journal and ask yourself: "Should I be eating these foods every day, or should some of them be reserved for special occasions?"  You will quickly learn to distinguish between good daily choices versus weekly or special-occasion foods.  Remember — you are what you eat every day — not what you eat randomly for a treat.
Now that you know how keeping a food journal works, be sure to join our Get Fit For 2010 challenge and contest, for a chance to win a personalized nutrition plan created by Alexa, along with many other amazing goodies. Here are the details on our fabulous grand prize.