Why Soup Is Good For a Healthy Diet
3 Ways Soup Can Save Your Diet
Once the weather turns colder, all thoughts turn to ways to keep warm. Does that mean that you've got soup on the brain? Thankfully, when done right, this cold-weather craving gets a thumbs-up in the diet department. Read on for three reasons to love soup.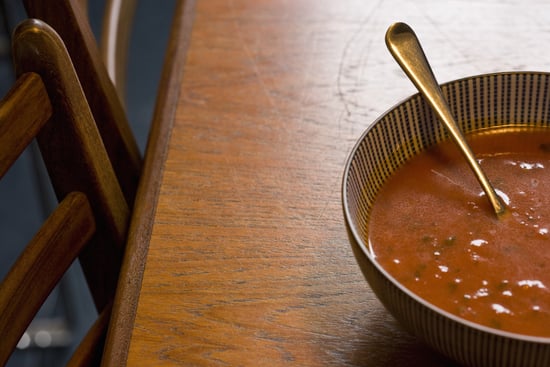 It can act as an appetite suppressant: Ordering soup before a meal shouldn't just be saved for restaurant dining. Have a cup of soup before your dinner — the low-calorie appetizer will help fill you up before you reach for a huge helping later.
It helps you load up the veggies: Feeling like your veggie quotient is lacking? Soups are a good way to fill up on your greens. Add fresh or frozen vegetables to a ready-made soup, or try blending vegetables together to make your own hearty homemade meal.
Read on for more soup and your diet after the break.
It makes staying healthy easy: Busy Fall nights can mean it can be hard to stay healthy. Instead of binging on cheese and crackers when you get back from the gym, make a big batch of soup on Sunday evening and portion into weeknight go-to meals. Not only will you have a one-stop, low-calorie meal ready to beat those hunger pangs, but you'll also save calories by substituting a large bowl of soup for a huge calorie-filled meal. And because soup is a one-pot meal, it takes almost no time to cook; here are nine healthy soup recipes to get you started.
If you're going canned, then make sure that you watch sodium counts and look for low-sodium options. Test your knowledge and see what you know about how much sodium is in soup and try your hand at homemade versions with these five low-calorie soup recipes.