Why Spring Cleaning Can Cause Injuries
Spring Cleaning May Give You More Than a Pristine House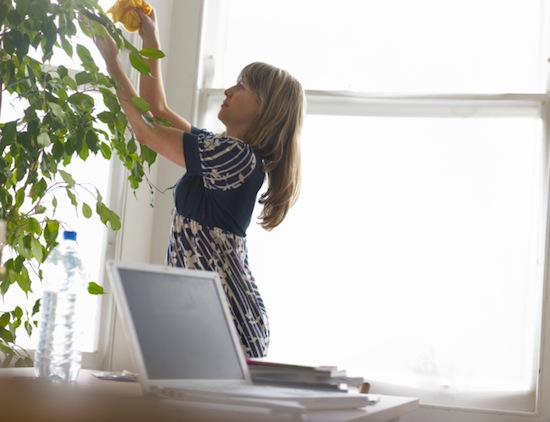 You're well on your way to giving your life a healthy Spring cleaning, but what about your house? Have you dusted everything thoroughly, cleaned your window treatments, and taken that pile of items in the basement to Goodwill? Don't worry, I haven't either. But it's never too late to start chipping away at your Spring cleaning chores.
Once you do take out the rags and rubber gloves, make sure to exercise extra caution and safety, because according to the US Consumer Product Safety Commission, in 2010 alone, more than 35,500 people injured themselves on a stepladder, and more than 41,000 suffered injuries while gardening or using gardening equipment. Wow — those are some serious Spring-cleaning injury stats!
Here are some reasons we tend to hurt ourselves around this time of the year.
Springtime makes us feel as though we need to get lots done, and therefore we tend to do too much too soon, says Dr. Michael A. Flippin, a spokesperson for the American Academy of Orthopaedic Surgeons. Rushing takes our focus off our safety, and well, you know the end result of that. Here are a few suggestions from the academy to prevent any injuries while cleaning:
Rather than using a chair for hard-to-reach areas, use a stable step stool.
Take breaks and switch up repetitive motions so that you don't pull certain muscles.
Whenever you are lifting something, always be sure to separate your feet and bend at the knees. Using all of the muscle power from your legs will reduce strain on your back.