Why Sunburn Causes Skin Cancer
Why Even a Slight Sunburn Is Bad
If it's been a while since you've been sun-kissed, you probably can't wait to jump into a bikini and soak up the warmth. You know it'll be quite a shock to your skin, but you think, "Hey, what's the harm in a little sunburn?" Well, unfortunately sunburns are like cigarettes — just one can increase your risk of cancer. The red, irritated, and painful skin may seem temporary, but even a slight sunburn can cause long-lasting damage. Every single sunburn you have experienced — from that excruciatingly tender burn you got visiting the Jersey Shore as a kid to the lobster-like face you got at your sister's wedding in Mexico last year — increases your risk of skin cancer down the road. In fact if you've had five sunburns in your life, your risk for melanoma doubles.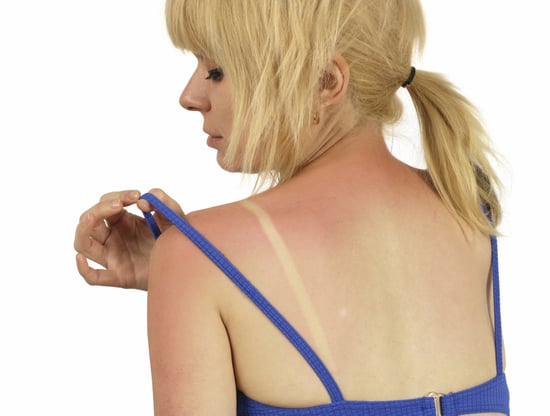 Persons with fair skin don't have much UV-protecting melatonin in their skin, so they burn easily, rarely tan, and are at a greater risk of skin cancer since they're more susceptible to severe, blistering burns. But those with dark skin can also develop skin cancer on paler areas of their body such as the palms of their hands, fingers, and feet.
Skin cancer is one of the most preventable types of cancer, and the best way to reduce your risk is to never get a sunburn. Do that by seeking shade during the peak hours of 10 a.m. to 4 p.m., and when you're in the sun, wear lightweight layers and a hat to protect your skin. Apply two tablespoons of broad spectrum (UVA and UVB protecting) sunscreen 30 minutes before heading outdoors, and reapply every two hours or after swimming or sweating. Aside from reduced risk of skin cancer, you'll also have fewer wrinkles and age spots.
Once a month inspect your skin, paying close attention to skin-cancer prone areas such as your nose, cheeks, ears, neck, and shoulders so you'll be able to notice any changes or abnormal discolorations. See a dermatologist once a year to be fully checked and don't wait to make an appointment if you notice something suspicious. Skin cancer can be fatal, but if you take precautions, you can enjoy the Summer sun without having to worry.