Why We Should Love to Eat Chia Seeds
Learn to Love: Chia Seeds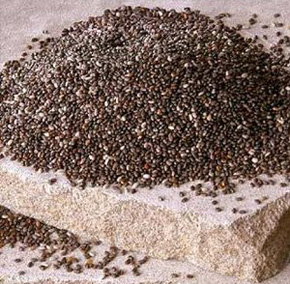 Ch-ch-ch-chia! Most people know about chia because of the famous shrubby pets that seemed to invade every commercial break during the '90s. The same seeds that made those houseplants so familiar are also quite good for the body. So forget those porous clay pots and learn why you should be ingesting them and how to get them in your diet.
To see why you need to learn to love chia seeds, read more.
Nutritional benefits: Chia seeds may be the ninja seeds of nutrition. They are high in omega-3, protein, fiber, and calcium.
Diet aid: If you're ready for a science experiment, place a few chia seeds in a glass of water and watch them expand. The sponge-like seeds will soak up the water, which is why a tummy full of the little guys will make one less hungry. Instead of snacking on empty calorie pantry items, dribble a few seeds in a glass of water and you'll feel satiated while reaping all the above nutritional benefits.
How to eat them: A seed of little flavor and substance, it is quite easy to get it in most meals. Cereal, oatmeal, yogurt, muffins, and smoothies offer easy access for the seeds. Lunch and dinner options are simple, too — add the seeds to salads, potatoes, rice, salsa, fruit salads, and on top of ice cream, too!
Have you tried chia seeds? Tell me in the comments below.