Why You Should Compete With Your Workout Buddy
Winner, Winner: Why You Should Compete With Your Workout Buddy
Over the weekend, I took a class led by Cara Castronuova, the champion boxer and former Biggest Loser trainer (the workout was part of a weekend event courtesy of Puma). While she led the class, she offered us all a bit of advice: sometimes, it's good to compete with your workout buddy.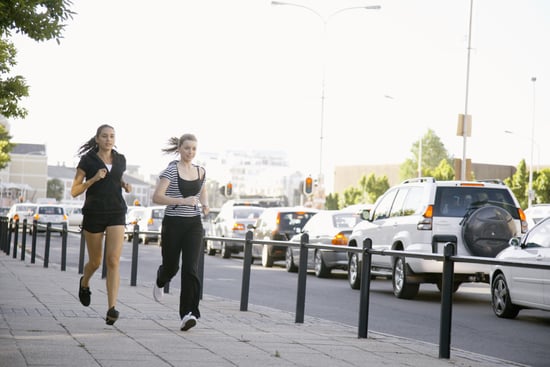 Cara knows what it's like to be competitive — after all, her job is to throw punches — but trying to one-up your workout buddy may sound counterintuitive to those of us who don't spend hours staring down an opponent in the ring. In reality, though, injecting a little bit of friendly competition into your normal workout routine can help raise the caliber of both your and your buddy's routines. Here's how to add a little competition to your workout buddy dynamic.
Sign up for a race together: Between committing to a months-long plan and showing up for practice, training for a race can be a bonding time for you and your workout buddy. Add another dimension to your training plan by racing with your buddy every few weeks. You'll be able to track your personal progress and may be able to enjoy a few bragging rights as well.
Whoever loses buys: Sometimes, that workout needs a little bit of umph. That's when you turn it into a competition. Challenge your buddy to see who can do the most box jumps at the gym or see who can go the hardest on the elliptical, and after all's done, whoever loses gets to treat her buddy to a cup of coffee or a healthy meal.
Read on for more ways to compete with your workout buddy!
Be most improved: If you and your workout buddy are at different fitness levels, track your progress when you embark on a fitness program. No matter what you're recording — calories burned, miles logged, or running pace — have a set date to check in with each other to see who's improved the most.
Start a team: Gather your friends for a friendly faceoff. Whether it's soccer, basketball, or kickball, organizing a casual (or dead serious) weekend game with your closest friends is a good way to spend quality time with each other while also burning calories.