Why You Should Eat Sprouts
All About Sprouts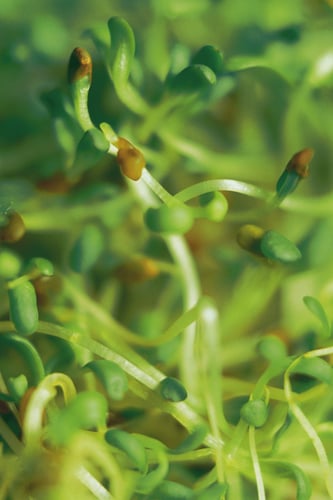 Many people associate sprouts with those stringy, wormy-looking mung bean sprouts in stir-fry dishes. Otherwise, you might think of the bitter alfalfa sprouts used to fill sandwiches. Did you know that sprouting extends to a wide variety of grains, beans, and nuts, and sprouting these food items can tremendously increase nutrition and digestibility? While fairly recent salmonella and E. coli outbreaks have deterred people from eating sprouts, with proper hygienic conditions, you can reap the benefits of sprouts by easily growing them in your own home or buy cooked products with sprouted ingredients.
Sprouting grains, beans, and nuts neutralizes the enzyme inhibitors and phytic acid, which make digestion and nutrient absorption a difficult process for your body. However, with moist and warm conditions, these hard-shelled seeds, grains, and beans begin to soften, open up, and become phytonutrient-rich. As a result, the sprouting stage of growth makes these foods easily digestible, lower on the glycemic index, and nutrient-packed, having increased levels of vitamins and antioxidants. In addition, sprouted grains and legumes require shorter cooking times, because the tough exterior shell has already broken down during the soaking process.
Read more about sprouts.
You might have already had other types of sprouts without realizing it. Well-known organic food companies like Food for Life use sprouted grains, which are milled into the flour that is used for their Ezekiel breads, tortillas, and cereals. Food for Life chooses sprouted grains because sprouting increases vitamin and mineral content and breaks down the tough amino acid protein bonds that make digestion of grains uncomfortable for many people. Wildwood Organics also makes their tofu from sprouted soybeans for enhanced nutrition and easier digestion. Also, restaurants like Cafe Gratitude in San Francisco and Los Angeles top every salad and dish with sprouted sunflower greens. Sunflower greens maintain the nutty, roasted flavor of sunflower seeds, and are packed with vitamins A, B, C, and E, as well as calcium, iron, and magnesium.
Sprouting at home is a pretty easy process, but the beans, grains, and nuts must be raw, unsalted, and unprocessed. Website Sprout People offers "Sprouting 101" and hundreds of items to sprout such as leafy sprouts, bean sprouts, brassicas (the plant family that includes broccoli) sprouts, and grain sprouts. Have you ever tried sprouting something? Tell us your favorite thing to sprout in the comments below.