Why You Should Eat Yogurt
Believe the Hype: Why You Should Be Eating Yogurt
Yogurt is a delicious choice for almost any meal, and that may be all the reason you need to happily add it to everything and anything. But if you need a little more convincing, here are four healthy reasons to eat yogurt.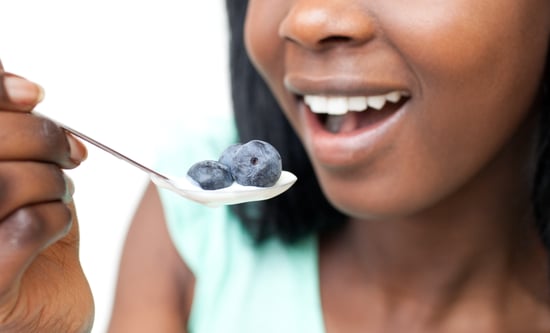 It's a good source of protein: Protein is essential for everything from building metabolism-boosting muscle mass to ensuring you stay full and functional hours after your breakfast. So when it comes to adequate protein in your diet, yogurt is a good choice: regular yogurt usually contains five-10 grams of protein per serving, while many brands of Greek yogurt clock in at 13-19 grams of protein per serving. Take advantage with these 10 versatile Greek yogurt recipes for every meal of the day.
It can help you lose weight: Looking to slim down before your Summer vacation? Start your day with yogurt. Recent studies have found that regularly eating dairy can whittle your waistline by burning fat fast. Rev up your body's calorie-burning potential with one of these healthy yogurt breakfast ideas to start your Summer weight-loss habit.
Need more convincing? Read on for two more reasons to eat yogurt.
It's debloating: In addition to helping you drop those pounds, the probiotics (healthy bacteria) in yogurt help with digestion, which means a flatter belly. When choosing yogurt, go for plain, organic yogurt with active cultures and without fruit or sugar already added so you don't feel puffy in your Summer best, and try more debloating foods here.
It can boost your mood: Research has shown that the amount of healthy bacteria present in your stomach affects the levels of serotonin, the hormone responsible for your mood, in your brain. The newest study focused on how this good bacteria in your gut at an early age regulates serotonin levels throughout life, but researchers are searching for ways to use probiotic-rich foods in place of antidepressants. In the meantime, it can't hurt to have some yogurt the next time you're stressed!
Do you eat yogurt? What's your favorite kind?