Why You Should Be Eating Colorful Foods
Eat Right With Color — It's National Nutrition Month
January is dedicated to New Year's resolutions. February is all about hearts. And March is National Nutrition Month — that's 31 days dedicated to cultivating sound eating habits. Created by the American Dietetic Association to help Americans improve their diets, the month comes during the time of year when people find their resolve for making healthy choices start to fade.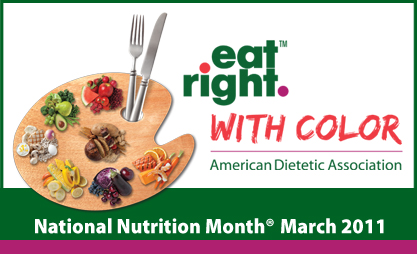 This year's slogan, "Eat Right with Color," is cheerful enough to bust through the dreariness of late Winter. Eating a rainbow of foods is great way to ensure you're getting a variety of vitamins and minerals — different antioxidants create the different colors in fruits and veggies. Here's what adding a little color to your plate can do for you:
Yellow/Orange: Sweet potatoes, carrots, pumpkin, mango, corn, and cantaloupe all contain a variety of carotenoids, an antioxidant that reduces your risk of developing cancer. Also high in vitamin A, orange and yellow foods make great post-workout snacks since cartenoids help repair micro tears in well worked muscles.
Green: Vegetables such as

kale

, spinach, and broccoli are high in lutein, which keeps your vision sharp and clear. Treat your taste buds and your peepers to sautéed dino kale with pine nuts and currants. It's a snap to make.
Learn what the rest of the rainbow has to offer.
Blue/Purple: Blueberries and blackberries are chock full of anthocyanins, which along with creating the dark hues of these berries also helps maintain flexible bloods vessels and may suppress tumor growth. Go even darker and try some black rice, which is loaded with the antioxidant.
Red: Tomatoes, watermelon, and pink grapefruit are loaded with lycopene, shown to possibly protect against cancer and heart disease. The lycopene in tomatoes can improve the skin's ability to protect itself against damaging UV rays.
White: Don't discount the absence of color to mean foods like cauliflower have nothing to offer nutritionally. Like its cruciferous cousin broccoli, cauliflower has cancer-fighting properties. Potatoes are a good source of vitamin C and potassium — just make sure to eat the brown skin for its fiber content. There's also some evidence that the sulfur compounds in garlic and onions may ward off stomach and colon cancers. Other white foods, like poached chicken, seafood, reduced-fat cheeses, eggs, and tofu, provide all-important protein.
What colors have you eaten today?