Why You Should Sit Down to Eat
Weight Loss Tip: Sit Down For Meals
Getting up to move always seems like the best fitness advice, but when it's time to eat, the healthiest thing to do is pull up a seat.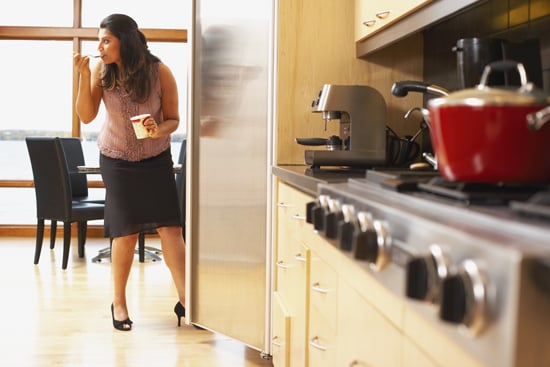 Designating a meal as its own activity will help you connect to your food and eat less. Constant grazers or those who chow down at the fridge put themselves at a disadvantage. When people stand up and eat, they're not always taking stock of what's being consumed.
If you're plagued with weight-loss issues, keeping a food diary may help open your eyes to the problem. One study from the Journal of the Academy of Nutrition and Dietetics surveyed 123 women and found that those who were the most successful at losing weight monitored their food intake by keeping a journal. By forcing yourself to write down everything you eat, you'll realize how many calories are coming from these quick trips to the kitchen. For those still at a loss for ways to make mealtime more meaningful, try these tips to learn how to enjoy healthy food.
Were you a former kitchen-counter grazer or a fridge eater? Tell me how you broke the habit below!