Why You Should Wear a Heart Rate Monitor
3 Reasons Why You Should Wear a Heart Rate Monitor
From the calories we've burned in gym class to the steps we've walked throughout the day, there's almost nothing we can't monitor when it comes to our fitness routines. One of the most important metrics to be aware of, however, is your heart rate. Here's why you should wear a heart rate monitor, especially if you are beginning a new routine.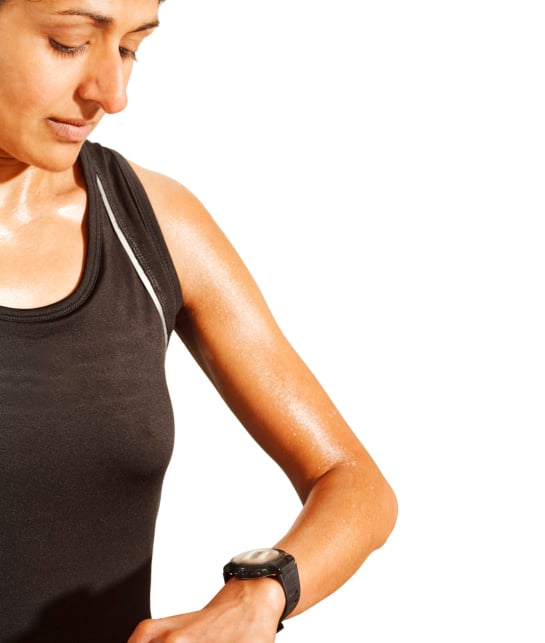 It tells you how effective your workout is: Articles that tell you how many calories you're burning in Zumba class are great for estimating how effective your workout is, but if you want a more-accurate idea of your levels of exertion, try out a heart rate monitor. Heart rate monitors accurately show how many calories you're burning based on height, weight, and heart rate, so the number on the screen offers a clearer idea of what your workout is like for your weight-loss goals.
It tells you if you're exercising too hard: If you've ever felt like you're about to pass out from your workout, investing in a heart rate monitor may be a good idea. Checking the dial helps you stay within a safe workout zone, and teaches you how to exercise without going past your max.
It tells you if you need to exercise harder: Likewise, having all the facts when it comes to your heart rate helps you push yourself if you aren't seeing results and want to up the intensity of your workouts. Having this information on you helps you choose the most effective workout and up your effort while you're exercising.
If you're in the market for a heart rate monitor, note that some fitness trackers, like the Nike+ Sportband or the Motorola MOTOACTV, monitor your heart rate if you purchase a compatible chest strap. Or, check out our review of one of our favorite heart rate monitors, the Polar RCX3 here.