Win an Xbox 360 Kinect and UFC Personal Trainer Game
Tweet at FitSugar and Win an Xbox 360 Kinect and UFC Personal Trainer Game
It's the height of bikini season — are you ready to hit the beach? Well, we're here to help you fight your way fit! We're giving away the new mixed martial arts fitness game UFC Personal Trainer and an Xbox 360 Kinect. The game, designed to burn calories and build endurance, was created in conjunction with official UFC Trainers and input from the National Association of Sports Medicine (NASM). You can kick, punch, and game your way into shape. To enter to win, just follow FitSugar on Twitter. Then tweet at us what you're looking to tone with the Kinect workout. Don't forget the hashtag!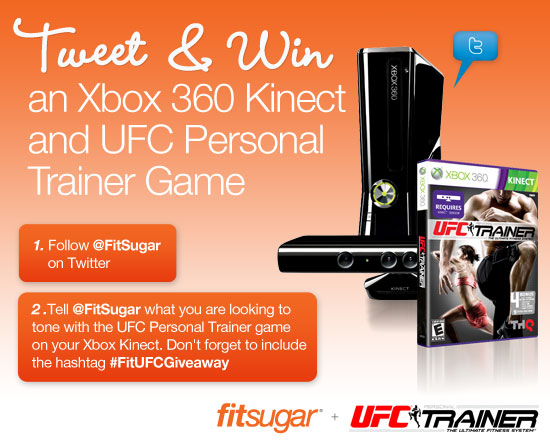 First, follow

FitSugar on Twitter
Then tell us what you are looking to tone with the UFC Personal Trainer Game on your Xbox Kinect by tweeting at us. Include the following message and hashtag to qualify: "Hey @FitSugar I'm excited to tone my _________ with the UFC Personal Trainer game." http://bit.ly/oRL277 #FitUFCGiveaway
To be eligible, you must be a Twitter user following FitSugar, but hurry — the giveaway ends on July 25! Check out the full list of rules here, and start tweeting!