Winners of the 2010 New York City Marathon
And the New York City Marathon Winners Are . . .
Of the 42,000 runners that hit the road for the New York City Marathon, there were two clear winners: Edna Kiplagat of Kenya took home the women's title, and Gebre Gebremariam of Ethiopia took home the men's.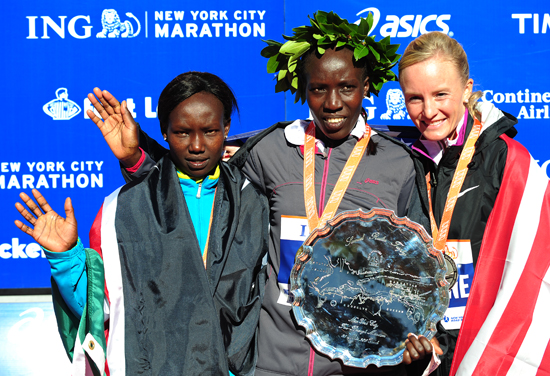 This is Edna's first major marathon title; she won it with a time of 2:28:20. Our eyes were on American Olympian Shalane Flanagan, and she did not disappoint. Shalane crossed the finish line 20 seconds after Edna for a second place victory! An American woman has not placed in the top two since Kim Jones did it in 1990. And this was Shalane's marathon debut.
This was also 26-year-old Gebre's first appearance in the NYC Marathon; he finished the course in 2:08:14. Gebre ran alone for the last two miles of the race and had a full one minute advantage over the second place winner, Emmanuel Mutai of Kenya.
We're so proud of the winners and to all who ran! Check back tomorrow to find out how these celeb entrants did.