Winter Debloating Recipes
Debloat With These 5 Belly-Shrinking Winter Recipes
Foods that cause bloating are everywhere this month. Holiday cookies, party appetizers, and free-flowing cocktails all contain enough fat, sugar, alcohol, and salt to make your flat-belly goals a distant memory. So if you'd like to feel a little less bloated, here are some recipes to help you this season.
Asian Salmon Slaw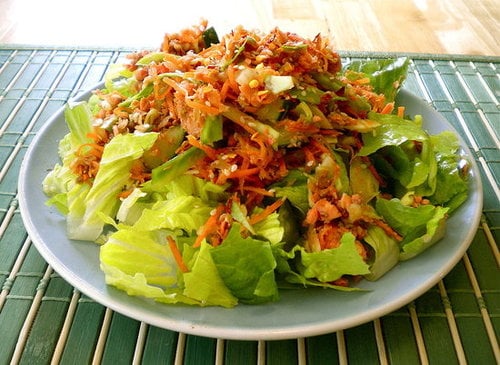 Ginger is an excellent natural remedy for digestive distress, and foods high in healthy fats, like seafood, help you debloat. Make this Asian-inspired salmon slaw for dinner when you are feeling overly sluggish to help flush out your system; just be sure to use low-sodium soy sauce to cut down on water-retaining salt.
Fennel Soup
When you're feeling extra bloated, reach for fennel; the cold-weather produce contains a good deal of fiber, which helps regulate your digestive tract, as well as the anti-inflammatory phytonutrient anethole, which helps soothe digestion as well. This fennel lentil soup from Healthful Pursuit will warm you up and get you back on track in no time.
Carrot Ginger Detox Soup
Here's another soup to help you cleanse your system; both ginger and probiotic-rich Greek yogurt can help shrink your belly, so make this carrot ginger detox soup after an indulgent day.
Keep reading for two more debloating recipes for Winter!
Grapefruit Fennel Salad
Can't get enough of fennel? Add the crisp bulb to a classic Winter citrus salad, like this grapefruit fennel salad. Studies have shown that grapefruit can help keep you from overeating as well — another piece in the debloating puzzle.
Fennel Ginger Beet Juice
Need a debloating remedy, fast? This Winter root beet juice contains all the anti-inflammatory, digestion-aiding superstars of the season.