Winter Running Accessories
Two Winter Running Essentials
If a little cold, snow, and ice won't keep you from running outside, then I'm with you. Nothing beats Winter running, because it feels so good to breathe in the cool, crisp air. Plus you hardly ever have to worry about overheating, like you do in the Summer. You do need to outfit yourself with some quality gear in order to stay warm and dry. Here are two essentials I don't head outside for a run without.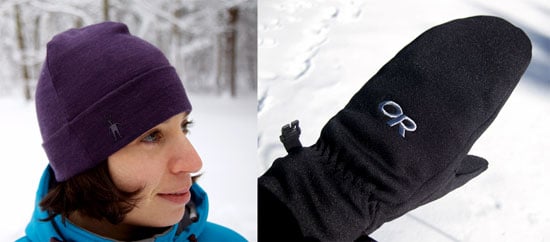 For my noggin, I'm in love with the Smartwool Basic Cuffed Beanie ($25). Your head loses a lot of heat, so you need to keep it warm while running in the Winter air. Wear a hat that's too thick or warm, and you'll end up sweating and your head will freeze. On the other hand, if you wear a hat that's too thin, you'll end up with a cold head, and for me, that translates to a headache. This Smartwool Beanie, made of a double layer of merino wool, is thick enough to warm your head and ears, but the wool wicks moisture away from your scalp and forehead in case you start to sweat. If you get really hot, this hat is so flexible, you can easily ball it up and stuff it in your pocket. Not a fan of purple? It also comes in other colors: black, white, and stripes.
Check out my new favorite running mittens when you
.
I used to wear lightweight fleece-lined running gloves from Outdoor Research, but on super chilly days, I'd end up balling my hands up inside to keep my fingers warm. Then I discovered that OR makes lightweight mittens. They sent me a pair of PL 400 Mitts ($35) to try, and as soon as I slipped then on, my hands instantly felt warm and cozy. They're lined with a double layer of fleece, so they're extra warm for bitterly cold days. These mitts are actually meant to be liners for ski or snowboarding mittens, but they work great on their own for Winter running. My hands stayed completely toasty, and toward the end of my run, my palms even started to sweat a little. So I took them off and used the hand clips to attach the mittens to each other so they wouldn't get lost. I love the handy loops sewn to the opening of each mitten to make them easier to pull on. Another great feature is that the outer palm of each mitten and thumb has silicone grippy stuff on it, so you can easily pick up your iPod if it falls or hold on to your dog's leash.
All you Winter runners out there will love these two pieces of gear. If you're struggling with the simple act of staying warm and dry, these two essentials have got you covered. Love running no matter the weather? Then join RunningSugar our community group dedicated to running.