Winter Workouts and Colds
How to Stay Healthy During Your Winter Workout
The blustery cold weather and snowy landscape may not deter you from sticking to your New Year's resolutions, but it's important to take the right precautions to minimize the risk of getting sick. Battling an illness takes time and energy that could be spent doing other things, not to mention the possibility of it derailing your fitness goals. Whether you exercise indoors or brave the outdoor temps, don't forget to prepare with these useful tips for staying healthy.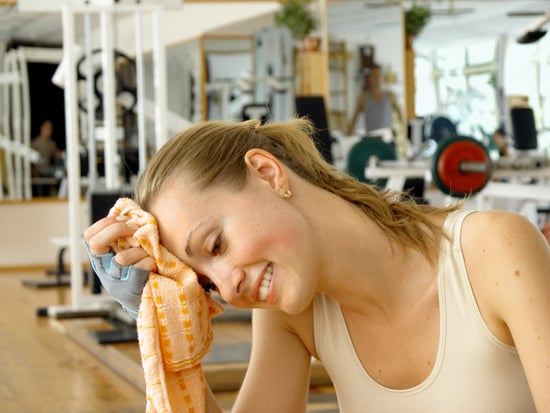 Clean equipment thoroughly: Fellow gym-goers are supposed to wipe down equipment after they're done, but just as a precaution, sanitize it before you use it. Or better yet, bring your own gear such as yoga mats, blocks, resistance bands, and even dumbbells to decrease your chances of coming in contact with other people's germs.
Use a towel for your sweat: Gyms are festering with germs in the Winter, and since touching your face is one surefire way to get sick, use a towel instead of your hands to wipe your perspiration. Then after your workout, be sure to wash up.
Don't leave the gym in wet clothes: Your sweaty workout wear will get chilly in the cold Winter air, which can weaken your immune system and leave you susceptible to any germs floating around, so change out of your exercise clothes before you leave the gym.
Decrease your workout's intensity if you have a cold: If you're sick and have above-the-neck symptoms — meaning a runny nose or sore throat but no hacking coughs, chest congestion, swollen lymph nodes, or muscle pain — then you can still exercise, but start at half your normal intensity, and gradually increase as you feel up to it.
Wear the right gear: Eye-searing UV rays, slippery roads, and chilly wet clothes are all reasons to dress the part for your Winter workout by wearing sunglasses, sunblock, waterproof sneaks with rugged soles, and wicking wear.
Warm up indoors: Not loosening up those muscles and getting your blood flowing can lead to muscle strain, which makes you more susceptible to injury during your workout. Spend a few minutes warming up indoors (five to 10 minutes of cardio should do the trick) so you can prevent injury and soreness.