Women's 5K and Marathon Races
Mocktails and Marathons: 5 Races to Do With the Girls!
It's time to redefine what it means to have a girls' night out — with a run! Forget heading to the movies this Friday night and start training for a half or full marathon. More like a dance party, these races take place in fun locations, require tons of girl power, and are nothing short of bright costumes. Making fun the main priority, there's no doubt this type of competitive spirit will bring you closer to your gals while helping you stay fit too. Check out the 5K, half, and full marathon races we found throughout the country; the hardest part will be deciding if you'd rather be rewarded at the finish line with bling, bubbly, or both!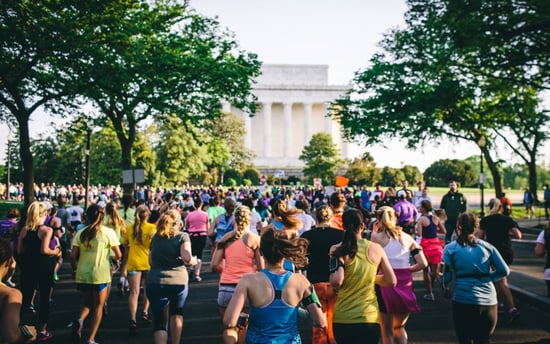 ZOOMA Race Series: Consider the ZOOMA series your fit weekend getaway filled with "mocktail" parties, yoga sessions, and a 5K or half marathon run. Awaiting at the finish line will be wine, live music, massages, and tons of girl power!

Cost: Prices vary by location, but expect the half marathon to be around $120 and 5K, $90.
Prize: A ZOOMA swag bag and tons of free goodies like massages and wine.
Training Groups? Yes, find them here.
Locations: Annapolis, Chicago, Cape Cod, Florida, and Austin.

Nike Women's Marathon: The largest women's marathon in the world, the Nike series takes place in both Washington DC and San Francisco. The event is filled with a sense of community, stylish gear, and raises awareness for the Leukemia & Lymphoma Society. You can choose to run the half marathon or full in San Francisco; the Washington DC race is a half marathon.

Cost: Price hasn't been set, but the random draw for the San Francisco race opens June 3, 2013.
Prize: Ready for this? Each finisher receives an exclusive necklace designed by Tiffany & Co!
Training Groups? Yes, find them here.
Locations: San Francisco and Washington DC.

More "mocktails" and marathons after the break!
See Jane Run Series: Grab your girl friends and hit the streets, this half marathon, 5K, or one mile race is perfect for all ages and levels. Between chocolate, champagne, and massages, it feels like a girls' night out — photo booth included!
Cost: Between $22 - $95 depending on distance.
Prize: Swag bag, t-shirt, commemorative champagne glass, and a medal.
Training Groups? Check out your local See Jane Run Club to get you motivated.
Locations: Alameda, Boise, Seattle, and Wichita.
Women's Running Series: This running series is all about encouraging women to be amazing. It is also America's largest and most popular half marathon and 5K series. Best part? Water stop volunteers pump you up throughout the race by playing music, wearing costumes, and decorating their stations.
Cost: Between $35 - $125 depending on distance and time of registration.
Prize: A one-of-a-kind medal with removable center charm — perfect for a necklace.
Training Groups? Yes. Online plans and local training groups are available. You can also start your own team with five or more friends.
Locations: San Diego, Nashville, Scottsdale-Tempe, and St. Petersburg.
Divas Half Marathon & 5K Series: No doubt, this is the most glamorous race you can attend. With everyone dressed in feather boas and tiaras, there's no lack of girl power come race day. Personalized "diva" bibs and blinged out medals are the icing on the cake.
Cost: Between $50 - $85 dollars depending on distance.
Prize: A "huge" diva medal, roses, and bubbly at the finish line, flattering t-shirt, and post race day dance party.
Training Groups? Yes! Go here for local club and charity training groups.
Locations: North Myrtle Beach, DC's Wine Country, Long Island, Puerto Rico, Southern California, and San Francisco.