Work Out on Thanksgiving Before Your Meal
Will You Be Working Out Before Your Feast?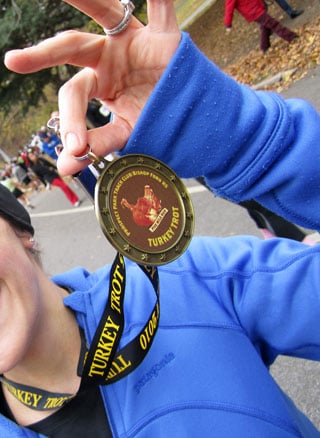 The holiday season officially kicks off tomorrow with the Thanksgiving feast. The days and weeks that follow are full of parties, sweet treats, and spiked punches. I don't think it's fair for anyone to attempt to lose weight when foodie festivities abound, but maintaining your weight — that's a noble goal.
For me, exercise is key for balancing out all my indulgences. I like to kick off T day with a workout, be it a Turkey Trot or a vinyasa yoga class. Many gyms offer special classes designed to fire up your metabolism before the upcoming meal. The amount of calories burned in your workout will probably not offset your entire meal, but every little bit counts, and the workout might just keep you more accountable when you scoot your chair under the table.
I am planning a workout at my sister's gym in Minneapolis — a 30-minute weight circuit followed by 30 minutes of swimming. What about you?
Flickr User pixonomy