Work Your Core With One-Legged Exercises
One-Legged Moves Help You Bust Through a Fitness Plateau
Reaching a fitness plateau means you're getting stronger (congrats on all the hard work), but it also means it is time to kick it up a notch. You need to add some new challenges to your workouts. My Equinox trainer Lauren has taught me one simple tweak will make every exercise harder: go one legged. Taking one leg off the floor forces your entire body to work harder to keep you on balance. Here are a few examples.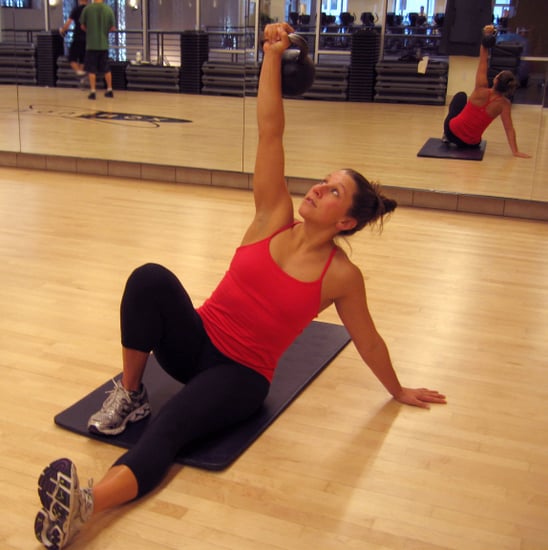 Take a simple move, like standing biceps curls, and lift one leg to 90 degrees so the knee is in line with the hip. Making yourself unstable adds core work to basic arm exercise.
Work your legs independently with single leg squats and see how much more your glutes and abs kick into gear.
Lift one leg while doing push-ups, this works even if you do push-up on your knees, and you will be challenging your abs even more.
Any standing exercise with the cable pulley machine can be done one legged, like this triceps exercise or basic upright rows.
Do full sit-ups with leg extended in front of you, which is also a prep move for the Turkish get up.
Try a Bulgarian split squat, with leg on the ground and the other on a weight bench. A great way to work your legs and center.
Take your row and tip it over so you're standing on one leg with your body parallel to the floor — this works your legs, core, and back!
Reverse plank with one leg is simple isometric hold works the entire body.