Work it girl: at your desk ABs
Note: The following exercise has been "skirt proofed".
Try this desk exercise to work your abdominals and release your back tension (it's an inconspicuous move so you should be able to get away with it in any office setting - let us know). Move 1) Sit up straight with your sits bones (yep, the bones you sit on) at the edge of you chair. Inhale and lengthen your spine and...
Move 2) Pull your deep abs to your spine to round your back, leading with your belly button. You will roll off your sits bones. Don't collapse - just curve back.
Inhale and lengthen your spine and return to sitting.
Repeat 9 more times and throughout the day.
To see how NOT to do this exercise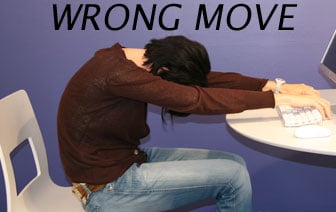 This exercise is not about showing off your best slouching posture. Make sure your abs are doing the work.