Working Out in the Rain
Do You Work Out in the Rain?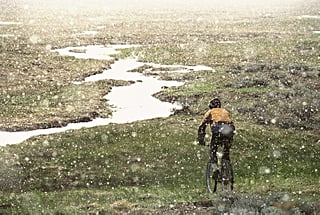 For almost two weeks we've been getting a lot of rain where I live, which is pretty unusual. The first few nights were nice — the thunder and lightning were exciting, and I felt cozy bundled up inside. By the weekend I was over it. I couldn't go for a hike or a bike ride, and climbing was definitely out of the question.
Despite only heading to the gym and the yoga studio for my workouts, I did notice a very small number of runners and cyclists braving it in this weather. Some of them were decked out in head-to-toe weatherproof gear, while others didn't seem to care. Regardless of what they were wearing, I thought it was still very punk rock of them. These weren't pleasant afternoon showers I'm talking about — more like torrential downpours. Also, it was cold!
A menacing storm couldn't keep these folks from their workouts! Tell me . . .