Working Out When Sick
Too Sick to Exercise? "Neck-Up Rule"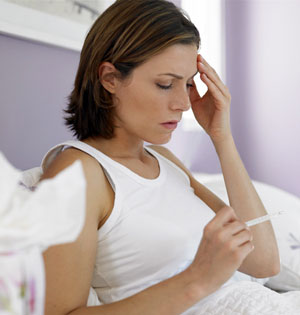 It's that time of year when everyone seems to be experiencing a second round of illness. Your second cold could be putting a damper on your training habits. Sweating it out may be OK in certain situations, but exercising while really ill could end up making you feel worse.
According to Women's Running magazine, when in doubt, follow the "neck-up rule." If your symptoms are most felt from the neck up, such as nasal congestion, headaches, sneezing, or a runny nose, and your energy levels are good, then it's perfectly fine to do a moderate workout. On the other hand, if your symptoms are below the neck, and include achiness, chest congestion, or nausea, skip the workout. Definitely forgo the sweat session if you have a fever.
Working out won't sweat out your illness, so you're better off resting and drinking plenty of fluids. Allow your body time to heal itself, and when you're feeling better, remember to ease slowly back into your routine.