Working Out While Watching TV
Does Watching TV Motivate You to Work Out Harder?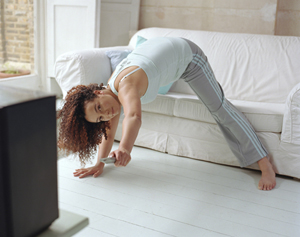 I used to think that watching TV while exercising was a big no-no because it was too distracting. I take it back. Not only is it not distracting, it can be hugely motivating. For those of you that don't care about baseball or live outside of San Francisco — newsflash: the Giants are going to the World Series! And since watching the playoffs became distracting to my fitness routine, I skipped my local sports bar and watched a few games at home while working out.
A funny thing happened during Game 4: my casual 30-minute routine on a portable stair climber, turned into all-out interval training. I was so amped from watching such an exciting game that the extra adrenaline made me want to work harder and longer. Suddenly I was alternating time on the stair climber with powerful multitasking strength moves. I also gave myself mini-challenges along the way: I'd do bicycle crunches the entire time someone was up to bat or use the stair climber at a high rate through an entire inning. In total, I worked out for almost two hours and was still bursting with energy when it was over.
After telling my story to a friend of mine, she said that this is exactly why she works out to the Real Housewives of New Jersey. The drama gets to her so much that she runs faster. What about you — is tube time the perfect trainer?