A Workout For Better Sex
Strength Training Is Sexier Than You Think
Sex and exercise are good for your health; some might even argue that sex is exercise. Hmm . . . sexercise anyone? OK, that might be a stretch, but sex and working out aren't as mutually exclusive as you think. A roll in the hay isn't a huge calorie burner, but it does have great health benefits like boosting the immune system and relieving stress. And you know those pelvic muscles you use to make sex that much more enjoyable? Well, those muscles are also strengthening your core. Work on your pelvic floor muscles outside of the bedroom and things between you and your honey will heat up too.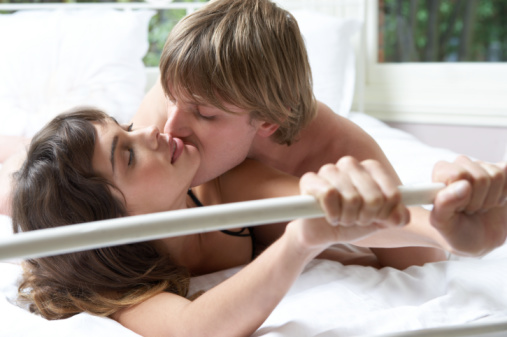 Having a strong core — specifically a strong pelvic floor —  gives you more control "down there," which really pays off in the bedroom when it comes to the grand finale. Also, given all the flips, twists, and turns you might work your body into, a strong back doesn't hurt either. One of the easiest ways to strengthen your pelvic floor is by doing Kegels. The great thing about Kegels is how incognito they are — I know many a woman who has sat at her desk typing away, all the while doing reps of this exercise.
To learn how to do Kegels and see what other exercises will spice things up,
.
Why not try doing some Kegels right now? On a six-count inhale, pull the pelvic floor up and in toward the center line of your body. Then release slowly on a six-count exhale. Allow your pelvic floor to completely relax in between repetitions. Do a set of 10 and repeat three times and throughout the day. When doing Kegels, make sure you are using the right muscles and not tightening up your booty or abs. The easiest way to identify the pelvic floor muscles is to stop your stream of urine when emptying your bladder. You've essentially just done your first Kegel!
Besides Kegels, core exercises are a great way to spice it up in the bedroom — you'll also just feel uber-confident about how good you'll look. More than that, having a strong core will help you get a flat belly, strong back, and help stabilize your lower torso. All of these things will help with posture, strength, and support for any activity you approach. Check out my core workout, and happy sexercising!