Workouts That Burn 200 Calories
Fat Burners to Help You Work Off 200 Calories of Holiday Indulgence
'Tis the season to indulge! Don't feel guilty about it — just work it off with one of these 200-calorie-burning workouts. They're as effective as they are seasonal and fun to partake in at the same time! Forget about watching the clock for class to end, these fat burners are likely to clear your mind as well.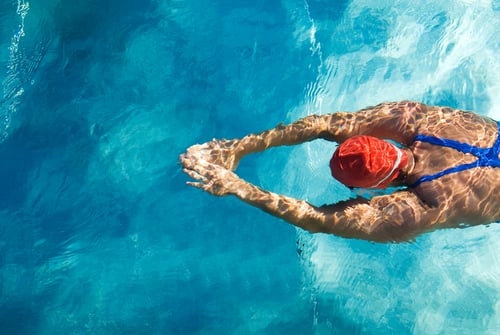 Swimming vigorously: At thee mph for 20 minutes, you can burn 198 calories, about the amount that your morning bagel can contain. Just make sure you don't swim too soon after eating it.
Running with intervals: Running at six mph (which is about a 10-minute mile) almost hits that 200-calorie mark after 20 minutes. To reach it sooner, let your last two minutes be a sprint. For the same results, start with a slower jog, if needed, then increase your speed to sprint for your last five minutes once you have momentum.
Power yoga: Most classes are an hour and 15 minutes, but you can sign up for a shorter class and still burn 200 calories. In just 45 minutes, you burn that much with time for Savasana and stretching. Take a one-hour class or follow a DVD at home.
Skiing downhill: If you're lucky enough to hit some fresh powder this Winter, calculate your runs into your total caloric intake. After 40 minutes, the typical time it takes to go on two long runs or three short ones, over 200 calories are already slashed. The average downhill speed of a skier or snowboarder is 13 mph.
Cycling: This is one form of exercise that's dynamic at the finest. Ride a stationary bike or take it to the concrete outdoors. In 40 minutes, you can burn over 200 calories on your bike. Check your speed to make sure that you and your bike are going 10 to 12 mph so that you get the maximum burn.
Speed walking: For a no-fuss way to get rid of the cals, choose to walk to a restaurant that takes 75 minutes to get there. If you walk at 2.5 mph, you'll have burned 200 calories before you even bite into an appetizer. For a more heel-friendly route, walk somewhere closer and split up the 75 minutes.
* Calories burned calculations based on a 130-pound woman