Workouts That Burn the Most Calories
Get In Tip-Top Shape With These Booty-Blasting Incline Workouts
We all know that running is a great way to get in shape; it targets the lower body and burns a bunch of calories. But alas, the treadmill can get a little boring after 15 minutes. Spice up your gym sesh by increasing the incline and amping up your calorie burn in the process.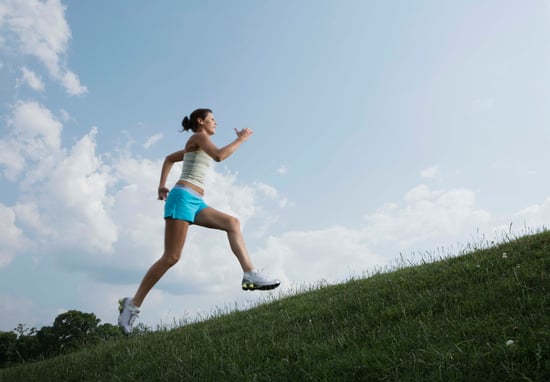 Incline training maximizes your time, because changing your speed and effort as you run uphill (and downhill, if you're running outside) burns more calories in less time. Duration and intensity will vary for each individual, but if you're strapped for time, then this is the way to go. Read on for four incline workouts that will blast off the fat.
Hill Repeats:
New to running? Read this article to jumpstart your incline training and get over your fear of hills. It also features a step-by-step guide that will keep those muscles guessing and working hard.

Tush-Toning Interval Workout:
Get Beyoncé's booty with this intense treadmill workout that will have you burning about 400 calories in one session! It's one routine that is sure to get that lower body in beach-worthy shape.

Stairway Circuit Workout:
Don't belong to a gym? Weather outside not ideal for a workout? No problem. This stair routine will have you working up a sweat in the comfort of your own home; it utilizes your stairs as the centerpiece of the workout, so you really have no excuses for bailing. Crank up the tunes and get ready to start sweating.

Toning Workout:
This workout will have you on your way to a sexy sculpted booty and toned legs in no time. It targets the lower body by incorporating a variety of moves to strategically whip those muscles into shape. You'll be leaving the gym a new woman!